Why Kendrick Lamar's 'To Pimp a Butterfly' Deserves the Grammy for Album of the Year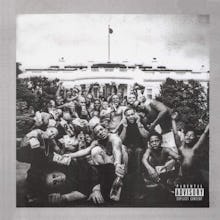 Kendrick Lamar is the most nominated artist at the 58th Grammy Awards, having racked up 11 nominations in one night – in some categories, like best rap song, competing against himself. When the nominees were announced in December 2015, Lamar had surpassed the record of ten nominations tied between Beyoncé, Eminem, Lauryn Hill and Kanye West, trailing only Michael Jackson's all-time record of 12. 
If it were simply up to the critics, Lamar's magnum opus, To Pimp a Butterfly, would sweep Monday's ceremony, including a trophy for album of the year – one of the "Big Four" categories, and arguably the most prestigious since it rewards a complete work, as opposed to a lone song or perceived potential. 
Read more:
However, the Grammys have historically been stingy when awarding hip hop albums for album of the year, regardless of critical acclaim. In its 57-year history, Hill's 1998 Miseducation of Lauryn Hill and OutKast's 2003 Speakerboxxx/The Love Below remain the only two hip-hop albums to win the top prize.
Even within the rap categories, Grammys have often awarded zeitgeist fair as opposed to what's best and enduring, however subjective that may be. Lamar himself was at the center of a recent egregious example when Macklemore and Ryan Lewis' The Heist won best rap album in 2014 over Lamar's critically-acclaimed good kid, m.A.A.d. city.
In an interview with Billboard's Jody Rosen, Lamar said his loss "would have been upsetting to me if I'd known that was my best work, if I had nothing new to offer ... good kid, m.A.A.d city made a connection. But To Pimp a Butterfly made a bigger connection." Lamar then tells Rosen that a win would be bigger than just him, saying, "This would be big for hip-hop culture at large."
Lamar is not alone in that assessment. Much like D'Angelo's 2014 Black Messiah, Lamar's To Pimp a Butterfly was particularly resonate because it spoke to crucial moments taking place within the Black Lives Matter movement. Mic's Tom Barnes writes, "[Lamar's] previous releases have taken penetrating looks at racism, but this album dives to new depths of scrutiny," and that "issues of racism, exploitation and identity weave throughout the album's 16 brilliant tracks. Across it all, Lamar puzzles out the responsibility of public figures to affect real change in these areas." 
Despite its difficulty and occasionally dense conflation of rap and jazz, the consensus among music writers and critics was that the album was very much relevant upon its release – as it still is now – and will ultimately prove to be a piece of work that would stand the test of time.
As 2015 drew to a close, an overwhelming number of publications included To Pimp a Butterfly on their end of the year lists, the majority of which ranking it as number one. The album's fourth single, "Alright" was not only ranked among the best songs of 2015, but it also appeared on many lists as the year's best music video. Is it any wonder why the Grammys used Lamar's song for their "Witness Greatness" promo?
With near-unanimous critical acclaim, influential sociopolitical relevance and the mere fact that he is the most nominated artist of the night – ostensibly indicating enthusiasm among Grammys' voting body – it's really difficult to imagine any other result. Kendrick Lamar's To Pimp a Butterfly is on its way to becoming the third hip-hop album to win the Grammy for album of the year. More importantly, it will also be a rare instance, in recent memory, where the winner truly reflected and embodied the superlative honor.