DeRay Mckesson Just Shared His Mayoral Vision for Baltimore With a New Website and Video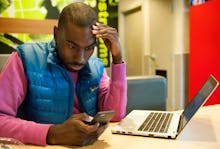 Black Lives Matter activist DeRay Mckesson has made his first digital statement about his plans for Baltimore if he were to be elected mayor. Mckesson entered the mayoral race with about an hour left on the deadline on Feb. 3. 
Mckesson's website features his plans for education and youth development, community prosperity and safety. He included his campaign video, which features people discussing why they think he is the best candidate. 
One man speaks about Mckesson's efforts to help him heal after the death of a friend. 
A school administrator speaks about her faith in Mckesson's plan. 
Another citizen speaks about Mckesson's organizing experience and ability to hire the right people to put in government. 
Mckesson's father spoke on his behalf, as well. 
Finally, you hear from the candidate himself. 
The video echoes some of what Mckesson wrote after his initial announcement to run for mayor. After he registered, he wrote a post on Medium about his love for Baltimore. 
"Like so many other residents, I have watched our city deal what seems like an endless series of challenges and setbacks," Mckesson wrote.
"We have lived through lofty promises and vague plans," he continued. "We have come to expect little and accept less. When we rely on this traditional model of politics we are rewarded with consistent, disappointing results."
Mckesson is one of more than two dozen mayoral candidates, according to NPR. He is currently competing in the Democratic primary against a dozen other candidates. The primary will be held on April 26, with the general election taking place on Nov. 8.
You can watch the full announcement below: