Lady Gaga Is Officially Getting Her Own Doll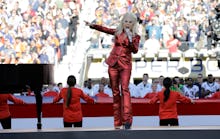 So here's the good news: Lady Gaga, the world's biggest fan of hairspray and equality, is getting her own Mattel doll. The bad news: we don't actually know what it looks like yet. 
Here is the silhouette Mattel has released: 
The doll, which was revealed on Friday morning, will be a new addition to Mattel's tween line, Monster High. You can probably guess why she was drawn to the line just by looking at them. 
According to a Mattel spokesperson, Gaga's doll is a creative collaboration between Gaga and her costume designer sister, Natali Germanotta. Sales of the dolls will benefit Gaga's Born This Way Foundation, which aims to empower young people by creating opportunities for artistic self-expression and creativity. The partnership between Mattel and the charity was announced in October, and all proceeds from the Gaga doll will benefit the Born This Way Foundation. 
Additionally, Monster High and Gaga recently launched a new campaign, #KindMonsters, that encourages fans to commit to a kinder and braver world by signing a pledge. According to an interview with Germanotta on Refinery29, pledgees will also be entered in a chance to win a doll once it comes out this fall. 
This news means that Gaga joins the ranks of women like Zendaya and Ava DuVernay, who have also been memorialized in Mattel doll form. It's also on the heels of Mattel's latest initiative to diversify the classic Barbie, by selling short Barbies and tall Barbies and curvy Barbies too. 
No word yet on if her doll will wear a red glittery suit, a la her Super Bowl look, but here's hoping.