A Brief History of Cara Delevingne Twitter Rants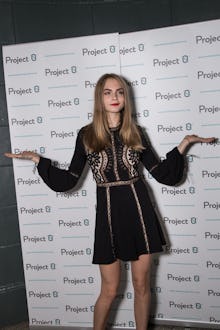 Vianney Le Caer/AP
English model and actress Cara Delevingne is not one to be silent on social media — which isn't necessarily a bad thing considering she's made some salient points in her Twitter rants. Among the topics she has tackled in recent months are the paparazzi, racial discrimination and the importance of family. And she's even used the social site to advocate for a variety of causes in addition to sharing calls to action to enact change. 
Read more: 
Delevingne, 23, was born in Hammersmith, London, and left school in 2009 to sign a contract with Storm Model Management. In addition to her modeling career, Delevingne has starred in a number films, including the 2015 films Paper Towns and Pan, and even makes an appearance in Taylor Swift's "Bad Blood" music video. According to her IMDB page, Delevingne is currently filming Valérian and the City of a Thousand Planets, which is scheduled for a 2017 release.
"The thing about Cara is that she's more than just a model—she stands for something in her generation's eyes," fashion designer Stella McCartney told Vogue. "She has a fearlessness about projecting what she stands for, which is so rare. In a certain sense she's brought back some of that energy you saw in the supermodel era, with Linda and Naomi. In our industry, people can be rather forced, not genuinely themselves.
"Cara would never pretend to be someone she's not, and she's not living her life for other people's approval."
Perhaps the most widely publicized rant came in September, when Delevingne took aim at the paparazzi. In a word, it was ruthless.
And there've been other noteworthy Twitter rants. There was that time she weighed in on race relations in the U.S.: 
Or the time she was unapologetic:
And when she said what everyone was thinking:
Here and there, she's come out as an animal rights and environmental activist:
And she's reminded us what's really important in life:
Yet perhaps here's the one tweet that puts a bow on Delevingne's Twitter musings, old and new: