What Channel Is the Grammys on? And Other Quick Facts About the Awards Show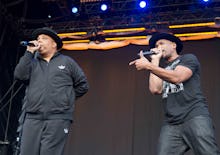 Katie Darby/AP
The 58th annual Grammys will air live on CBS Monday night from the Staples Center in Los Angeles. Taylor Swift is, yet again, up for several Grammys as well as Kendrick Lamar, the Weeknd and a plethora of nominated artists from genres across the board.
The show will kick off at 8 p.m. Eastern on CBS and won't be available to legally stream online. An interactive livestream on CBS' site will show a red carpet pre-show and "exclusive" behind-the-scenes coverage during the show. 
Read more:
A lineup of platinum artists including Adele, Justin Bieber and Rihanna are slated to perform. Rap trio Run-D.M.C and rock band Earth, Wind & Fire will both receive lifetime achievement awards.