Grammys Livestream 2016: Here's How to Watch the Awards Show Online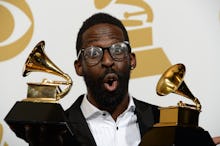 JOE KLAMAR/Getty Images
The 58th Annual Grammy Awards will take place on Monday, Feb. 15 at 8 p.m. Eastern. In addition to airing live on CBS, this year's award show will also stream through CBS All Access, which requires an account. 
Social media-savvy users will also be able to follow along with the program through the official Grammys Twitter and Instagram, which will likely be posting updates throughout the night.
Read more:
The 2016 Grammys, hosted by LL Cool J,  will take place at the Los Angeles' Staples Center. This year's nominees include Taylor Swift, Kendrick Lamar, Wiz Khalifa, Meghan Trainor, Kelly Clarkson, Maroon 5, Tame Impala, Drake and Kanye West. A full list of the nominees is available here.
The awards show will include performances by Justin Bieber, Adele, Kendrick Lamar, Justin Bieber and the Weeknd among others. Lady Gaga will perform a special tribute to David Bowie.