This 'Powerpuff Girls' Clip Shows That the Girls Are Back and Still Feminist as Ever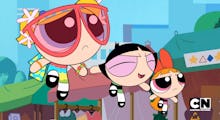 Who are you calling princess? 
In case you're not aware, "Powerpuff Girls" will be coming back this year. In a new clip released from Cartoon Network, Blossom, Bubbles and Buttercup are just as badass and feminist as you remember them to be. 
In the clip, the girls are fighting against an evil lumberjack who feels Townsville needs to "man up." 
When he asks if there's someone "man enough" to stop him, the girls show up. 
But when the lumberjack calls Buttercup "princess," he gets what's coming to him. 
And viewers remember that Buttercup has something of a temper.
There is no date set for the U.S. premiere of "Powerpuff Girls" yet but Cartoon Network says to expect the girls to kick big bad ass this spring.