In One Quote, Bill O'Reilly Just Unintentionally Summarized His Own Show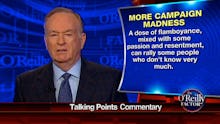 During the Feb. 12 edition of the O'Reilly Factor, host Bill O'Reilly discussed the ongoing Democratic presidential primaries with language that seemed curiously close to describing himself.
"I hate to say it, but the debates are getting kind of tedious on both sides," O'Reilly said during his analysis portion, Talking Points Memo. "Canned answers rule, there are very few thoughtful responses and most of the questions are easily deflected by the well-rehearsed politicians."
"Getting ill-informed folks to follow you isn't all that hard," O'Reilly continued. "A dose of flamboyance mixed with some passion and more than a smidgen of resentment can rally some people who don't know very much."
If that sounds familiar, it's because that's pretty close to the grift O'Reilly has been running on his own viewers for years.
The O'Reilly Factor is best known for its loud and angry attacks on cultural liberalism, big government and other political and media figures, as well as equally fervent denials of inequality and racism. He regularly gets into shouting matches with his guests.
As to whether O'Reilly's viewers "don't know very much," the evidence is mixed. People who watch Fox News talk shows like the O'Reilly Factor tend to be more informed than those who watch its general-audience news programming, but the network itself ranks poorly for well-informed viewers.
O'Reilly, on the other hand, often plays fast and loose with the facts to build narratives pleasing to his show's arch-conservative audience. Independent fact-checking website PolitiFact says roughly 50% of O'Reilly quotes checked by the website came back as mostly false, false or "pants on fire," with an additional 15% rated as half true. He wrote a book about Ronald Reagan which the Washington Post noted had "no endnotes, no bibliography, no long list of interviewees and only a smattering of footnotes," but "regurgitates and resurrects much material that we had thought (and hoped) was dead and done."
It's pretty evident O'Reilly and his Fox News colleagues have been successfully rallying people. His show attracts a higher percentage of self-described conservative viewers (69%) than any other media figure beside Sean Hannity and Rush Limbaugh, according to Pew. Polls have found somewhere between 30 to 49% of viewers rank Fox News as the most trustworthy news channel, while limited evidence suggests Fox viewership is linked to more conservative voting behavior.