11 Responses Black Twitter Had for 'Cosmopolitan' About "Hair Tattoos" as a New Trend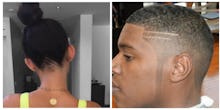 In another case of a brand attempting to call a long-standing black cultural phenomenon a "trend," Cosmopolitan tweeted that "hair tattoos" are what's next for hair enthusiasts. 
The problem is that every black person with a barber already knows about "hair tattoos" — and nobody calls them that. Cosmopolitan's tweet has since been deleted. The link it led to is now defunct, as well. 
But the original tweet lives on in some responses. 
Black Twitter started the hashtag #CosmoHeadlines to imagine other ways brands might try to appropriate black culture to make a new trend. 
There you have it, folks. Whether it's cornrows, collard greens or "hair tattoos," just think twice before you try to spot a "new trend."