How the Presidential Candidates Are Reacting to the Death of Justice Antonin Scalia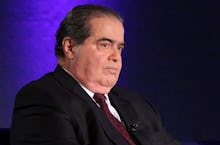 Supreme Court Justice Antonin Scalia died on Saturday afternoon at the age of 79, sending a shock through the legal and political worlds and leaving a gaping hole in the Supreme Court's conservative majority.
Scalia was a heroic jurist among the conservative legal establishment, ushering in an intellectual rebirth of legal thinking that lit a fire under young right-leaning lawyers since his appointment to the court in 1986.
News of Scalia's death came just hours ahead of the Republican debate in South Carolina, where the six remaining GOP candidates will meet just a week ahead of the state's primary. Soon after news of his passing, presidential candidates started reacting to Scalia's legacy and impact on the court. 
Here's how the presidential candidates on both sides of the aisle are reacting to Scalia's death. We'll update this as more reactions come in.
Sen. Ted Cruz (R-Texas) called Scalia "one of the greatest Justices in history," before calling for the Senate to delay confirming a replacement until the next administration.
Here's Cruz's initial statement:
Soon after, Cruz tweeted that he would oppose considering any replacement until President Barack Obama is out of office, immediately raising the prospect of a fierce nomination battle ahead:
Though Hillary Clinton sent her thoughts and prayers to Scalia's family and friends, she admonished Republicans "who are calling for [his] seat to remain vacant" for "[dishonoring] our Constitution."
Donald Trump called Scalia's death "totally unexpected" and a "massive setback."
Trump issued a longer statement soon after:
I would like to offer my sincerest condolences to the Scalia family after the passing of Justice Scalia. Justice Scalia was a remarkable person and a brilliant Supreme Court Justice, one of the best of all time. His career was defined by his reverence for the Constitution and his legacy of protecting Americans' most cherished freedoms. He was a Justice who did not believe in legislating from the bench and he is a person whom I held in the highest regard and will always greatly respect his intelligence and conviction to uphold the Constitution of our country. My thoughts and prayers are with his family during this time.
Sen. Bernie Sanders (I-Vt.) called Scalia "a brilliant, colorful and outspoken member of the Supreme Court."
While I differed with Justice Scalia's views and jurisprudence, he was a brilliant, colorful and outspoken member of the Supreme Court. My thoughts and prayers are with his family and his colleagues on the court who mourn his passing.
Republican Sen. Marco Rubio of Florida joined Cruz in calling for "the next president" to choose Scalia's replacement.
Today, our nation has suffered a deep loss. Justice Scalia was one of the most consequential Americans in our history and a brilliant legal mind who served with only one objective: to interpret and defend the Constitution as written. One of the greatest honors in my life was to attend oral arguments during Town of Greece v. Galloway and see Justice Scalia eloquently defend religious freedom. I will hold that memory forever. The next president must nominate a justice who will continue Justice Scalia's unwavering belief in the founding principles that we hold dear. Jeanette and I mourn the loss of Justice Scalia, and our thoughts and prayers are with his wife Maureen and his family.
Ohio Gov. John Kasich (R) called Scalia "an essential, principled force for conservative thought."
Former Florida Gov. Jeb Bush (R) said Scalia's "logic and wit were unparalleled."
Today we lost a great man whose principled service left our nation vastly better off. This afternoon at Mass, Columba and I prayed for Justice Scalia, who was devout in faith and has been brought home to God in heaven. Our prayers are also with his wife, Maureen, his children and his 28 grandchildren.
Retired neurosurgeon Ben Carson also called on the Senate to block any replacement nominated by Obama.
I am saddened to hear the news about Justice Antonin Scalia. We have lost a great man and a great Supreme Court Justice. For the past three decades, his towering intellect and trenchant wit has characterized the deliberations and decisions of the high court. He made Americans proud, not only because he gave to the court the power and persuasion of his brilliant legal mind, but because he defended the Constitution with an unshakeable commitment to the text and to the intent of the Founders. In an age where it is popular to subscribe to a "living Constitution" and during a time when political and judicial leaders prefer legal decisions that are politically convenient, Justice Scalia always dutifully carried out his responsibilities to interpret the law, not to make new ones. Time and again, he ruled based on where the black letter of the law led him, not according to the politics of the moment. For that reason, he has angered Americans on both the left and the right, but he has never wavered in his dedication to the Constitution.