Obama Reacts to Antonin Scalia's Death: "One of the Towering Legal Figures of Our Time"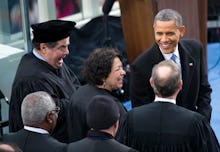 President Barack Obama issued a statement on the death of Supreme Court Justice Antonin Scalia, who passed away this weekend in Texas at the age of 79.
Speaking from Rancho Mirage, California, where he is attending a summit of Asian leaders, the president hailed the late justice's "larger than life" presence and "brilliant legal mind."
"He influenced a generation of judges, lawyers and students and profoundly shaped the legal landscape. He will no doubt be remembered as one of the most consequential judges and thinkers on the Supreme Court," Obama said. "He dedicated his life to the cornerstone of our democracy, the rule of law."
Though the president and Scalia differed ideologically, Obama said Scalia was "one of the towering legal figures of our time."
Remembering Scalia as "a devout Catholic," Obama also expressed condolences to his family.
"At this moment, we most want to think about his family. And Michelle and I join the nation in sending our deepest sympathies to Justice Scalia's wife Maureen and their loving family, a beautiful symbol of a life well lived," he said. "We thank them for sharing Justice Scalia with our country."
A tough fight ahead: Scalia may ultimately prove just as much a headache in death to the Obama administration as he proved in life.
Obama has the constitutional authority to nominate a replacement for the justice, but his appointment must be confirmed by the Senate, which is currently controlled by the Republican Party. In his statement, Obama said that he would exercise his authority to appoint a successor.
Senate Majority Leader Mitch McConnell (R-Ky.) has already made clear the level of opposition the president will face there, issuing a statement saying "The American people? should have a voice in the selection of their next Supreme Court justice. Therefore, this vacancy should not be filled until we have a new president."
Minority Leader Harry Reid (D-Nev.) issued a dueling statement, calling it the Senate's "responsibility" to confirm any Obama nominee.
You can watch Obama's speech below: