Here's What Women Really Think of Fashion's Sudden Embrace of Natural Hair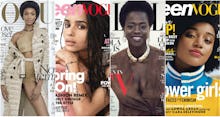 We are just two months into 2016, and the fashion industry has already put forth some much-needed effort toward racial inclusivity by featuring a dynamic group of black women rocking natural hairstyles on magazine covers.
Teen Vogue featured Amandla Stenberg on its cover donning a side-parted Afro. Viola Davis graced the cover of Elle with her natural hair, along with a lineup of TV greats on other covers: Taraji P. Henson and Priyanka Chopra. Jourdan Dunn stood arms-folded and ready to slay with an Afro on the cover of Vogue Brazil. Essence brought us a trifecta of Black Girl Magic with February covers starring actresses Yara Shahidi and Teyonah Parris and activist Johnetta Elzie. For its March issue, Teen Vogue released its cover featuring Zoë Kravitz wearing her signature braids.
Read more: This Model Just Brought Natural Hair to the Victoria's Secret Runway for the First Time
The noteworthy covers and spreads seem to be the ultimate expression of what so many women are already aware of: There's a natural hair movement afoot for women of color. So what do black women really think of all these new efforts by "mainstream" magazines to celebrate natural hair?
It's the stars that deserve credit, not just the magazines. "I think that the publications deserve credit for styling these notable covers, but I also think that the entertainers are to thank," Desiree Verdejo told Mic. Verdejo is the owner of Vivrant Beauty, a Harlem, New York City-based retailer that sells hair and beauty products for women of all skin tones, nationalities and hair textures. "It means a lot that they can make decisions as to how they will be portrayed and in those moments have chosen their natural hair."
Danielle Kwateng-Clark, an editor at StyleBlazer, seconded the notion. "For the cover models, it shows them taking control over their image," she told Mic. "And more importantly, for the reader of color, it's encouraging to see such glamorous and beautiful women having the same hair texture and styles."
This comes after decades of a long, damaging history of exclusion, in which magazine readers are bombarded by Eurocentric beauty and hairstyling practices that have become the norm. For black women in particular, seeing themselves on these covers and the varying ways that their hair takes shape is quite the victory.
"One of the most exciting things about black hair culture is the variety," Verdejo said. "For years, we've only seen the long, straight option portrayed, so it feels like we're only beginning to see a true celebration and interest in more diverse beauty, when we see images such as Viola wearing her natural Afro or Zoë Kravitz wearing her now-signature braids."
The power of visibility should not be underestimated. Today's covers are the latest in a complex history of black women seeing dignified images of themselves in the media. "I think that as a black girl you grow up internalizing all these messages that say you shouldn't accept your hair or your skin tone or your natural features," Stenberg told Solange Knowles in her Teen Vogue cover interview, "or that you shouldn't have a voice, or that you aren't smart."
It's been a long battle involving respectability politics, outright discrimination and great discomfort. As art historian Kobena Mercer wrote in "Black Hair/Style Politics," hairstyles like braids, the Afro and the conk (a hairstyle often worn by black men during the 1940s) have been incorporated into the mainstream without reference to their origins or, alternatively, looked down upon. Black women have faced unsolicited inquiries about their hair such as, "Can I touch it?" Magazines have offered tips to white women to achieve an Afro. Cornrows have been Columbused by the mainstream, celebrated only when worn by a white celebrity.
So it's understandable that black girls and women consider it a victory when they see themselves in mainstream spaces that have historically misrepresented them or forgotten them.
This victory is reflected when a little black girl sees a DreamWorks character that looks like her on a movie poster. It is reflected when a little girl who looks up to Janelle Monáe finally gets the chance to meet her. It is a victory when, after having her dreadlocks unfairly scrutinized, Zendaya got a personalized Barbie doll made in her image. 
Jasmine Young, a graduate student at Parsons School of Design, saw the same sort of victory when she started wearing her hair natural this year. Although she has never had a perm, she said growing up, if her hair wasn't straightened, it wasn't considered presentable. Earlier this month, she hosted an event at her school and was nervous about what people would think of her hair. 
"I had never stood in front of people with my natural hair before," she told Mic. "I decided to wear it because I needed to prove to myself that I could truly be comfortable with who I was made to be."
"I think [the] mainstream is just now understanding an audience that has always been there," Kwateng-Clark told Mic. "We've all had the experience as black girls, reading a hair article in a mainstream publication and flipping the pages because the products or tips won't work for us. That's slowly changing to the credit of the many women who have represented for naturalistas."
At a certain point, all these covers shouldn't be so noteworthy. The embrace of natural hair by big-time magazines reflects a growing embrace among black women themselves, from rising bloggers to indie haircare companies to events like Texture on the Runway. But eventually, that embrace should simply be the norm.
"Unfortunately, it's still newsworthy for a black model or celebrity to grace the cover of a major magazine," Verdejo told Mic. "I love that Viola, Amandla, Jourdan Dunn and Zoë Kravitz have kicked off the year on the covers of top glossies."
This representation should come more regularly, in part, when more women of color are working behind the scenes, according to Kwateng-Clark.
"Frankly, I hope to see more women of color work in editorial," Kwateng-Clark told Mic. "I hope to see more brown girls as editors and writers at mainstream publications, to share their perspective and speak for a larger — patiently waiting — audience."
And, Verdejo said, it should happen because it's what is truly representative.
"Beauty and fashion are industries that we celebrate for their creativity, evolution and progressiveness," Verdejo said. "These industries have a responsibility to be a mirror that reflects the face of society."