How One Designer Is Getting Us to Talk About Mental Illness at New York Fashion Week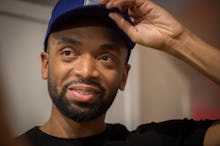 Pyer Moss' A/W 2016 runway show was an intentional mix of the awe-inspiring beauty and imagination that is New York Fashion Week punctuated by the realism designer Kerby Jean-Raymond has become known for. The main attraction was the fashion, but so was the context, setting and soundtrack. 
Guests chuckled as a choir gloriously belted out songs by hip-hop artists Future and Fetty Wap. They clapped wildly when the show's stylist, R&B singer Erykah Badu emerged from backstage to take her seat. They leaned forward from their benches to read the Pyer Moss sweatshirts that read "Suffer No More." They sat still while the room filled with palpable sorrow when the show referenced the suicide of Black Lives Matter activist MarShawn McCarrel II.
"My demons won today. I'm sorry," read a large picket sign held by one of the models on the runway at the close of their New York Fashion Week show Saturday. McCarrel had posted those words on his Facebook page hours before he took his life on the steps of the Ohio Statehouse. 
"Had he had people in his life that understood that depression was a real thing," Pyer Moss founder Jean-Raymond told Mic, "and understood that depression was a real thing people deal with it in different ways, and mask it more times than actually resolve it, he would've probably still been around and that's the dialogue that we want to open up."
Jean-Raymond is a dynamic storyteller and has a proven ability to incorporate current events into his runway shows and collections. He is also pragmatic, designing a collection filled with furs, shearling and puffer jackets that is undeniably well suited for the blistering winds that blow outside of Milk Studios. He works hard to create a very necessary dialogue on social issues that often affect people that exist in the margins.
Building on several high-profile cases and a robust movement, last season he zoomed in on police brutality. This season his focus was depression, informed by the psychological concept known as "double-bind"— a term coined in the 1960s by social scientist Gregory Bateson that occurs when "conflicting demands are placed on an individual, thereby resulting in confusion in thinking and communication." Double-bind is most commonly used to refer to cases concerning patients diagnosed with schizophrenia.
Although the show was not as focused on black life as last season's, issues of mental health in the black community coupled with idea of the double-bind was visible. This was reflected not only by the picket sign but also via the music that underscored the show.
The choir, which was accompanied by an orchestra, stood at the front of the runway donning white hospital smocks (to represent patients) that read "Pyer Moss" across their chests. They sang in the style of Tropera — a genre coined by Erykah Badu, who called it a combination of trap music and opera. Sterling Overshown, the music composer and choir director, called the compilation of songs, which also included the Black American national anthem, "Lift Every Voice and Sing," a "Baroque Negro Spiritual." 
Jean-Raymond told Mic he chose the songs because they were polar opposites: Future's "Trap N**gas" and Fetty Wap's "RGF Island" reflected "the dark times of black culture," while "Lift Every Voice and Sing" represented racial uplift.
"All of it kind of told a story," Badu told Mic.
While the music provided a pulsating soundtrack to reflect the double-bind, Badu's styling of the collection drove the concept home. According to Jean-Raymond, Badu was up until 2 a.m. the night before the show making buttons reading "Booze" and "LSD" that were attached to hats, and were similar to those worn by pilots and bus drivers. The buttons, Badu said, represented things that people dealing with depression often use to numb the pain. She also wrapped masking tape around the boots worn by models—which symbolized stabilizing yourself—and made the decision to include the McCarrel reference.
"Normal bouts of depression are very common with all of us," Badu said. "And we don't really discuss or talk about it. We just kind of numb it some kind of way. I haven't personally had a clinical depression but, I mean, it's a shitty world sometimes. Especially if we don't put down the things that numb us. And really start to have a dialogue. A conversation about how we really feel about things."
In full, the collection was reflective of Pyer Moss' utilitarian approach to design in a palette of black, brown, white and yellow and punctuated by the runway show's concept of depression. There were sweatshirts that read "Suffer No More" and "Why So Blue;" fur coats adorned with stickers of yellow sad faces; floor-length parkas; exaggerated necks on all-white turtlenecks; fur-lined leather bomber jackets; pin-stripe jumpsuits and trench coats; puffer coats and puffer overalls. There were also shirts that read "You don't have any friends in LA"— a nod to Jean-Raymond's brief stint in Los Angeles after his S/S 2016 show last September. The collection, he told Milk before Saturday's show, "is a about receiving mixed messages and being in a constant state of flux and confusion."
After his show last season, Jean-Raymond told Mic that he felt a "little bit freer" after he tackled police brutality on a New York Fashion Week runway. This season proved to be no different.
"Every show is personal. Every topic, every theme is always personal," Jean-Raymond told Mic on Saturday. "It's not like I'm making something that I don't understand — that I didn't live through. Every time that I am able to talk about something or get it off my chest it's always a freer feeling."