How Long Are the 2016 Grammys? Start to Finish, Here's How Much Time You'll Commit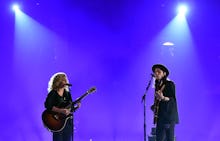 Kevin Winter/Getty Images
The 58th annual Grammy Awards will be broadcast live from Los Angeles' Staples Center on Monday, Feb. 15, 2016. They begin at 8:00 p.m. Eastern and should wrap up at 11:30 p.m. — interested parties should either find a basic-cable-ready television in front of which they can park themselves for three-and-a-half hours, or consider a one-week-free trial of CBS All Access in order to stream the ceremony live. Anyone with login information for a cable account can go this route as well.
Read more:
While the Recording Academy's decision to hold its Grammy Awards on a Monday is moderately odd (and most likely a result of it being a holiday weekend), readers who keep up with popular music and culture will want to invest the time in watching 2016's show. Why? Because realistically, three-and-a-half hours isn't that long, especially considering the lineup. 
Taylor Swift will kick things off with a performance of an as-yet-unnamed song from 1989. Adele will take the stage and it will almost certainly be great. Justin Bieber will be there, singing with Skrillex and Diplo and demonstrating that he is still very much alive, contrary to popular internet opinion. 
Lady Gaga will pay tribute to the late David Bowie and the Eagles plus Jackson Browne will honor the recently passed Glenn Frey. Other performers will include Rihanna, Chris Stapleton, The Weeknd, Sam Hunt and the cast of Broadway's smash hit biomusical, Hamilton. 
And then there's the suspense. Will Taylor Swift take home all the Grammys, leaving none for anyone else? Will Alabama Shakes deliver a dark horse win and take home album of the year? Will Queen Bey steal the show, even though she's not nominated in 2016? Only time and tuning in can tell.