"Ultralight Beam" Lyrics Highlight Spiritual Meaning Behind Kanye West's 'TLOP'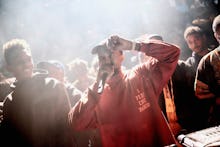 Dimitrios Kambouris/Getty Images
After changing the name of his album several times and teasing his fans with the release date, Kanye West finally released his newest album The Life Of Pablo on Valentine's Day weekend. The album, which features 18 tracks, is available on West's official site, and for streaming on Tidal.
"Ultralight Beam," the first track on the album, focuses on Yeezy's faith and his belief in God in a way fans haven't heard since his 2004 track "Jesus Walks." West performed "Ultralight Beam," on Saturday Night Live Saturday night, with collaborators Chance the Rapper, Kelly Price, Kirk Franklin, The-Dream and El Debarge. "Ultra Light Beam is a plea, a confession, an anointment," Ryan Dombal writes in Pitchfork. 
Read more:
Yeezy opens up the track with a sample from the viral video "Natalie is Great," which shows a 4-year-old girl "praising the lord," and stating that she doesn't want any "devils in the house." The Chicago rapper teams up with The-Dream for the hook: 
"I'm tryna keep my faith/ We on an ultralight beam/ We on an ultralight beam/ This is a God dream/ This is a God dream/ This is everything/ This is everything."
R&B singer Kelly Price asks her own questions of God on the track, but she understands that whenever her faith is tested, she can look towards "the light" and everything will be alright. 
"So why send depression not blessings?/ Why, oh why'd you do me wrong?/ You persecute the weak/ Because it makes you feel so strong/ Don't have much strength to fight/ So I look to the light/ To make these wrongs turn right/ Head up high, I look to the light."
Fellow Chicago artist Chance The Rapper, who had the longest verse on "Ultra Light Beams," spits about his relationship with God, his daughter, and his upbringing on Chicago's 79th Street. The rapper also made a comment about Spike Lee's Chiraq film; Chance has openly spoken out against the premise of the movie.
"Ugh, I'm just having fun with it/ You know that a nigga was lost/ I laugh in my head/ Cause I bet that my ex looking back like a pillar of salt/ Ugh, cause they'll flip the script on your ass like Wesley and Spike/ You cannot mess with the light/ Look at lil Chano from 79."
With a choir supporting the artists, and the Grammy-winning gospel artist Kirk Franklin providing a prayer at the end of the track, this song definitely has the feel of an 11 a.m. church service.