Who Is Sri Srinivasan? Meet the DC Circuit Judge Rumored to Take Antonin Scalia's Seat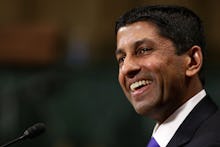 Chip Somodevilla/Getty Images
With the death of Supreme Court Justice Antonin Scalia on Saturday, a debate has opened up between Democrats and Republicans over who should nominate the 79-year-old justice's replacement. The GOP is rallying hard for the privilege to go to the next president, but because that individual won't be sworn in until January of 2017, and because it would be unheard of for the seat to sit open for the entire interim, President Barack Obama will likely select the nominee. 
Read more:
Who's the most likely candidate for the job? The most buzzed-about prospect so far is a U.S. Court of Appeals judge for the Washington, D.C. Circuit, Sri Srinivasan. In 2013, New Yorker staff writer and CNN senior legal analyst Jeffrey Toobin wrote an essay on Srinivasan's possible appointment to the D.C. Circuit Court — "a Supreme Court farm team," in his words — in which he speculated that his path to SCOTUS would open up if he could secure a place on the D.C. Circuit.
"The stakes in this nomination are clear: if Srinivasan passes this test and wins confirmation, he'll be on the Supreme Court before President Obama's term ends," Toobin wrote for the magazine. Now, he's reiterating that prediction on Twitter.
When he wrote the New Yorker piece, Toobin identified Ruth Bader Ginsburg, "the justice most likely to retire" by 2016, as a big obstacle for Srinivasan, because Obama could reasonably opt for a female replacement. But Ginsburg is still going strong and so the question is, what makes Srinivasan a noteworthy choice?
The 48-year-old circuit judge would be the first SCOTUS justice of Indian descent — he was born in Chandigarh and moved with his family to Kansas when he was a child. Srinivasan earned his bachelor's degree at Stanford, going on to graduate from the university's law and business schools; he then became a law clerk for both U.S. Court of Appeals' Fourth Circuit Judge Harvie Wilkinson III and U.S. Supreme Court Justice Sandra Day O'Connor.
Srinivasan was later a partner in the law offices of O'Melveny & Myers and, while George W. Bush was in office, assistant to the solicitor general. Notably, he served as deputy solicitor general for the Obama administration before receiving his nomination to the D.C. Circuit (for which the Senate then voted in his favor, 97-0) in 2012. His "experience on the other side of the aisle," according to CNN, makes him a likely choice for a contentious position.
And, as Toobin pointed out, he's made "twenty or so arguments in the Supreme Court," helping to take down the Defense of Marriage Act in 2013. While Obama's past two terms have taught us that a Republican Senate can and will block basically anything on the basis that the president proposed it, the thinking behind a Srinivasan nomination is that it would prove palatable enough to conservatives — who, remember, did unanimously confirm his D.C. Circuit nomination in 2013 — that they might accept it. 
For his part, Srinivasan doesn't believe that a majority Obama-appointed bench affects the court's ruling — at least, it hasn't in his circuit court. 
"If we lived in a world where we had the rule of a judge, rather than the rule of law, you would have seen an absolute sea change, an avulsive change in the law as it was interpreted, applied and rendered by our court," he said, according to Politico. 
But we live in a world regulated by the rule of law, so if a judge is doing their job, their personal politics shouldn't decide the outcome of a case.