'SNL' Slays White America's Reaction to "Formation" With 'The Day Beyoncé Turned Black'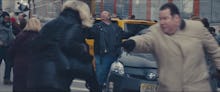 The Feb. 13 episode of Saturday Night Live kicked off with one of its funniest skits of the year so far: a parody of white America's reaction to Beyoncé's new song "Formation," a black power anthem featuring a Black Lives Matter-themed video and a Super Bowl performance with Black Panther Party-styled costumes.
The sketch reimagines reactions white people had to the song — many called it racist — as a horror movie trailer, with whites' panicked realization that Beyoncé is black causing societal breakdown.
"Guys, I don't understand this new song," an office worker, played by Cecily Strong, intones.
"Hot sauce in my bag swag? What does that mean?" ask her colleagues, played by Bobby Moynihan and Beck Bennett. "Maybe this song isn't for us."
"But usually everything is!" Strong screams before everything melts into a fit of rampant white paranoia.
It's not all bad news for white folks — Kenan Thompson tells a crowd of panicking white folks in Times Square that they can still own Beyoncé's performance in the 2006 movie The Pink Panther. But by the end of the skit, it turns out some white people would rather not live in a world where the singer-songwriter has any kind of racial identity that challenges their sensibilities.
Among some quarters of the U.S., SNL's parody wasn't far off.
Correction: Feb. 14, 2016