"Freestyle 4" Lyrics: Kanye West Gets Raunchy in 'TLOP' Track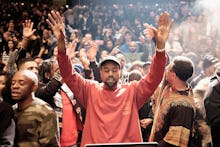 Dimitrios Kambouris/Getty Images
No stranger to rapping about himself, Kanye West goes all in on his "Freestyle 4" track off his newest album The Life of Pablo. However, the streaming service Tidal switched the "Freestyle 4" and "Feedback" song titles, according to some fans on Twitter. Despite the minor mishap, the intoxicating track features the Chicago artist rapping about his lavish lifestyle and sexual escapades in explicit fashion. 
Read more:
Yeezy describes his dreams, his sexual fantasies and what he likes to do while he is under the influence during the two-minute track.
"Close eyes, see things /Fire up, tweaking /You're my freak dreams/ You're my freak dreams/ Bad bitch, you dig that /Get stacks, drive cars /Whip out, bitch out/ Tits out, oh shit /My dick out, can she suck it right now?"
West, forever the life of the party, believes that if he starts having sex at the party, everyone just might start following his lead. 
"What if we fucked right in the middle /Of this motherfuckin' dinner table? /What if we just fucked at the Vogue party /Would we be the life of the whole party? /Shut down the whole party /Would everybody start fuckin'? /Would everybody start fuckin'?"
The song ends with a hook from Brooklyn rapper Desiigner, who recently signed to the G.O.O.D Music label, Yeezy announced Thursday.