Kanye West Brings Back a Familiar Sound With "Fade": Lyrics and Meaning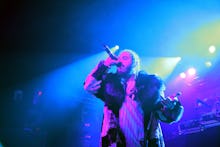 Johnny Nunez/Getty Images
The last few weeks have been pretty confusing for fans of Kanye West. The Chicago rapper changed the name of his album several times, teased his fans with the release date and declared an Apple Music boycott before finally releasing his newest album The Life of Pablo over Valentine's Day weekend. 
"Fade," featuring rappers Post Malone & Ty Dolla Sign, uses samples from three songs, "Mystery of Love" by house music legend Mr. Fingers, "Deep Inside" by Hardrive and "(I Know) I'm Losing You" by the blues band Rare Earth, according to FACT. "Fade" is a short song that discusses the artist's feelings toward relationships, sex and the world as a whole.
Read more: Frank Ocean Came Out of Hiding for Yeezy Season 3 and the Internet Went Nuts
"Having previously been leaked online, 'Fade' is a dance floor filler with one of West's best beats — and the most standout sample — on the album," Luke Morgan Britton wrote for NME. "The verses, however, don't measure up. Post Malone's guest spot doesn't reach the heights of his surprise 2015 hit 'White Iverson,' while Yeezy reels off throwaway lines like: 'Roll up, roll up/ Hold up, hold up/ Po' up, po' up.'"
The song opens using the sample from Rare Earth, and Ty Dolla Sign. "Kanye keeps himself (not to mention Ty Dolla Sign and Post Malone) balanced between the two with a vocal snatch of blues rockers Rare Earth's '(I Know) I'm Losing You' which gives the song its title, hook and College Dropout-era vibe," Claire Lobenfeld and Miles Bowe of FACT wrote. 
West's verse, not the most thought-provoking, states that after Yeezy indulges in marijuana or alcohol, he feels the urge to have sex with someone:
Roll up, roll up/ Hold up, hold up/ Po' up, po' up/ I love to/ I wanna/ I'm tryna/ I'ma rock the boat/ Work the middle 'til it hurt a little
Post Malone, who sings the breakthrough hit "White Iverson," wrote that the verse "is about all the bullshit that is going on right now with me," in a verified annotation on the lyrics site Genius. "I don't know if it because I am white or because I am young or because I came up really fast or whatever but everybody wants to talk shit," Malone wrote in the annotation. "But I don't know if they want to talk shit or if they want to be on my dick."
"It is different. It is okay, you have got to do what you have got to do," he continued. "You have to move on and keep going." The lyrics, however, aren't the most thoughtful either:
You don't even know/ I've been so far gone/ I've been so led on/ I've been runnin' 'round/ I've been on my shit/ Whole world on my dick/ I just need to know
The album, which features 18 tracks, is available on Yeezy's official site and streaming on Tidal.