Kanye West's New Lyrics In "Wolves" on 'TLOP' Are Even Darker, More Twisted Than Original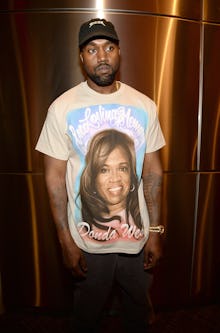 Kevin Mazur/Getty Images
When Kanye West originally released "Wolves" in 2015 featuring Sia and fellow rapper Vic Mensa, it was a dark and eerie tune accompanied by some of Yeezy's most artistic collaborators. In 2016, West introduced the world to The Life Of Pablo, and in it was an entirely new "Wolves," where Sia and Mensa were cut and a beautiful, dark twisted outro by Frank Ocean was added. 
The latest "Wolves" off The Life Of Pablo is available for streaming on Tidal. The remastered single is track 13 on The Life of Pablo and features new verses from West, which show an even darker and more twisted perspective into the song. 
Read more:
West sets the haunting ambiance with his first hook, which is noticeably different than the original version with Sia and Mensa:
"Lost out, beat up /Dancing, down there /I found you, somewhere out /Round, round there, right right there /Lost and beat up /Down there, dancing /I found you, somewhere out /Right down there, right round there."
The controversial rapper then throws in a number of biblical references, while also getting quite vulgar while describing his plans to give birth to a child without actually having sex at all:
"You gotta let me know if I could be your Joseph /Only tell you real shit, that's the tea, no sip /Don't trip, don't trip, that pussy slippery, no whip /We ain't tripping on shit, we just sipping on this /Just forget the whole shit, we could laugh about nothing /I impregnate your mind, let's have a baby without fucking, yo."
Even Ocean's outro is much darker than his typical R&B stylings. The lyrics offer a much more depressing perspective:
"The rings all ring out /Burn out, cave in /Blackened to dark out /I'm mixed now, fleshed out /There's light with no heat /We cooled out, it's cool out /Life is precious /We found out, we found out /We found out."