"Feedback" Lyrics: Kanye West Gets Boastful on 'TLOP' Track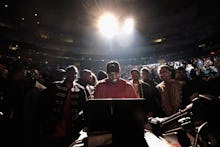 Dimitrios Kambouris/Getty Images
After a minor mix-up with the "Freestyle 4" song on the Tidal streaming service, "Feedback" is Kanye West's boastful new track on The Life of Pablo about his path towards infamy and success. Having started at the bottom, West mentions his humble beginnings as a "Chicago Southsider" and how he's become a "ghetto Oprah," spreading his wealth to others.
The track, one of the few that features no one but the 38-year-old star himself, was produced by West, Charlie Heat, Plain Pat and Mike Dean. 
Read more:
West starts off the track reminding everyone who slept on him, that Yeezus is back and better than ever.
"Ayy, y'all heard about the good news?/ Y'all sleeping on me, huh? Had a good snooze?/ Wake up, nigga, wake up/ We bout to get this paper"
Yeezy then lets his fans know that despite all of the money he's received over the years, he will still remain true to himself. During one of his Twitter rants, however, Yeezy claimed that he is $53 million in personal debt. In the song, Kanye states that even though he is facing some financial setback, he will continue to do what he feels is best.
"Money never made me/ Make me do something? Nah, can't make me/ Even if the money low, can't pay me/ Even if the money low, can't play me"
In the second verse, West makes mention to Pablo Escobar, a notorious Colombian drug lord. West also makes a brief mention to the "Hands Up, Don't Shoot" slogan that took root after the fatal shooting of Michael Brown in 2014.
"Pablo bought a Roley and a Rottweiler/ Seem like the more fame, I only got wilder/ Hands up, we just doing what the cops taught us/ Hands up, we just doing what the cops taught us/ I've been outta my mind a long time/ I've been outta my mind a long time/ I've been saying how I feel at the wrong time/ Might not come when you want but I'm on time"
West then speaks on all of his critics who have been either confused, annoyed, or dismayed by his antics recently, by asking fans and critics alike to name a genius that wasn't perhaps a little unstable. 
"I can't let these people play me/ Name one genius that ain't crazy/ Follow our father/ You borrow our motto/ I'm a Chicago Southsider/ I'm a Chicago Southsider."
At the end of the track, West mentions several millionaires who inspired him during his journey towards greatness, including the late Apple CEO Steve Jobs, the New York rap superstar Jay Z, former Chicago Bulls athlete Michael Jordan and former television host Oprah Winfrey. 
"Wait a second, everybody here, I'm the ghetto Oprah/ You know what that mean? You get a fur! You get a fur!/  You get a jet! You get a jet! Big booty bitch for you! Woo!"
Never one to shy away from sharing his stories of success, Yeezy's "Feedback" does just that.