Kanye West Gets Aggressive in "Facts" Lyrics, Drops Receipts And Twitter Is Loving It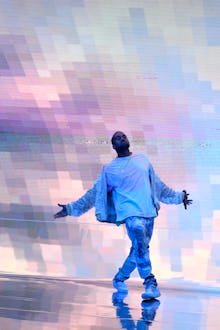 NBC/Getty Images
If The Life Of Pablo is one of Kanye West's most remarkable albums, "Facts" is honestly one of the rapper's most savage tracks to date. Yeezy holds nothing back in the track No. 17 off The Life Of Pablo, and even pulls out the receipts — claiming Nike, the biggest competitor to Adidas, his sneaker and fashion line collaborator — paid Michael Jordan a billion dollars for a lifelong contract with the athlete. 
The rapper also reminisces the crazes his clothing, sneaker and album drops have caused, heightening his cockiness to levels unparalleled, even for Yeezus himself. "Facts" and the rest of The Life Of Pablo is available for streaming exclusively on Tidal.
Read more:
The headstrong club anthem starts off with a bang, as Yeezy raps:
"Yeezy, yeezy, yeezy I feel so accomplished /I done talked a lot of shit but I just did the numbers /Herzog and Adidas man you know they love it /If Nike ain't have Drizzy, man they wouldn't have nothin', woo!"
West continues to assert his fashion label partner's excellence above Nike, and gives several nods to himself, in pure Yeezy fashion. In fact, the song seems to sound more like the egotistical West fans have come to know and love:
"If Nike ain't have Don C, man they wouldn't have nothin', ooh! /But I'm all for the family, tell 'em, 'Get your money' /Yeezy, Yeezy, Yeezy they line up for days /Nike out here bad, they can't give shit away /I stuck to my roots I'm like Jimmy Fallon /I ain't dropped the album but the shoes went platinum (Woo!)" 
When West returns for the second verse in "Facts," he continues to spit even more controversy and fire, referencing Bill Cosby, Steve Harvey and Iggy Azalea's beau and basketball player Swaggy P. 
"Do anybody feel bad for Bill Bosby? / Did he forget the names just like Steve Harvey (Yo!) / Tell Adidas that we need a million in production (Yo!) /I done told y'all, all I needed was the infrastructure (Boom!) /Now we hottest in the streets, it ain't no discussion / James Harden, Swaggy P running up the budget (Yoga flame!)"
West goes on to declare he will definitely be running for president in 2020, supports his wife's successful Kimoji app and further boasts about his lavish lifestyle, detailing the struggles of choosing which couch he should choose ofr his new mansion. 
Twitter, of course, is living for it:
Yeezy apologized for "Facts" and the series of disses toward Jordan and Nike, claiming his beef had nothing to do with the athlete:
However, that only made Twitter light up even further with #Facts: