Rebel Wilson Says She's "Practicing My Transgender Face" at BAFTA Awards 2016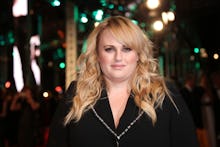 Australian actress Rebel Wilson courted controversy with an irreverent routine at the British Academy of Film and Television Arts on Sunday, including a joke about how she was "practicing her transgender face" to win awards at a future ceremony.
"I've never been invited to the Oscars because as you know they are racist, but the BAFTAs have diverse members and that's what we all want to see in life isn't it? Diverse members," Wilson said in reference to the recent controversy over a lack of diversity at the Oscars, receiving a "huge laugh" from the crowd, reported Deadline.
"Someday I hope to win a BAFTA myself," Wilson continued. "I've already been practicing my transgender face."
Some Twitter users didn't find the joke all too funny, asking whether she was making transgender people the target of a derogatory joke.
However, other Twitter users defended her routine.
Wilson's remark comes in the context of a major year for LGBT cinema at the BAFTA ceremonies. According to the Guardian, this year's nominations include "best film, best actress, best supporting actress and best director nominations for Todd Haynes's lesbian love story Carol, and best British film, best actress and best actor nominations for Tom Hooper's transgender drama The Danish Girl."
Wilson will soon be appearing in the movies How to be Single and Grimsby, the latter a Sacha Baron Cohen production, reported the paper.