'The Walking Dead' Midseason Premiere Recap: Death Marks Season 6 Return in "No Way Out"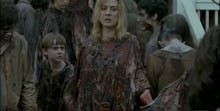 Mic/YouTube
By all accounts, The Walking Dead is a depressing and brutal show, perhaps one of the most violent in television history (that's generally what happens when you center around the zombie apocalypse). It's not supposed to be surprising that the series — similar to the comics which it is based off of — will contain its fair share of gratuitous deaths with each passing season. However, even for The Walking Dead's very high standards, one of the deaths in the premiere episode for the latter half of season six, "No Way Out," was decidedly gruesome (warning: spoilers ahead).
Read more: 
This is, of course, Sam's — played by Major Dodson — gruesome death at the hands of several zombies after he began to cry in the midst of the zombie horde. This caused a chaotic chain reaction that led to the death of his mother Jessie (Alexandra Breckenridge) and his brother, Ron (Austin Abrams). 
Jessie, seeing her son being eaten in front of her, began crying out. Similar to Sam, her anguish caught the attention of the zombies, and she was promptly attacked. 
Ron, after seeing the death of the remainder of his family, shot Carl (Chandler Riggs) out of anger, blaming him and Rick (Andrew Lincoln) for the broad problems they've caused since coming to Alexandria —  though Michonne (Danai Gurira) stabbed him in the chest with her signature katana, which altered the shot and took out his eye. The show took this route, in part, because it sticks to its source material — in this case, Carl losing his eye. 
Fans on Twitter shared similar sentiments to the death's of the characters, and the bloody aftermath. 
Thankfully, with a welcome assist from Daryl (Norman Reedus), the rest of the group remained intact through the night, thanks in part to his recently acquired rocket launcher. How this will affect the emotional core of Rick's group, in addition to the remainder of the Alexandria survivors, however, is still in question. 
It also makes one wonder what else the rest of this season has in store for viewers. After all, Lincoln has said that the season six finale was particularly difficult — just to read through. 
"I felt sick to my stomach when I read the [finale] script," Lincoln said, in an interview with Entertainment Weekly. "It was the first day in the whole six years of working on The Walking Dead that I was late for work because I woke up in the middle of the night and I couldn't get back to sleep. I was so angry and frustrated and I felt sick. And that was just after reading it."
The second half of season six just started, but if "No Way Out" is any indication, we're in for a bloody and unforgiving journey.