Kanye West Just Sent Mark Zuckerberg a Truly Bizarre Tweetstorm Basically Begging for Help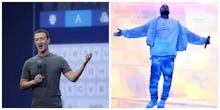 In the immortal words of Yeezy himself: HUH?!?!
Early Monday morning, in the space of five minutes, Kanye West posted 10 bizarre tweets addressed to Facebook co-founder and CEO Mark Zuckerberg. 
West implored Zuckerberg for his help — but to help him do what is not entirely clear. 
"I'm this generation's Disney... I want to bring dope shit to the world..." West explained, "I don't have enough resources to create what I really can..." 
Which is, perhaps, where Zuck comes in? To help West become the new Disney?
West also asked his followers — or more specifically, the "world" via "FaceTime" and other means — to help him persuade Zuckerberg to offer his assistance. 
Why would Yeezy need assistance? Well...
West's bizarre Monday morning tweets come as part of a much larger Twitter tempest, which involved a long stream of vaguely nonsensical posts — some of which have stoked the ire of the internet. He declared (in all caps and with many exclamation marks) that serial rapist Bill Cosby is innocent and used the social media site to slut-shame ex-girlfriend Amber Rose.
Read More: Kanye West Just Slut-Shamed Amber Rose — But Her Response Wasn't Much Better
Most recently, West antagonized countless more people with misogynistic lyrics from "Famous," a track on his latest album, The Life of Pablo, released Thursday, in which he suggested Taylor Swift owed both her career and her body to the rapper: "I feel like me and Taylor might still have sex / Why? I made that bitch famous."
This is all to say West's latest Twitterstorm should not be of much to surprise to us by now. But the world — and Zuckerberg — may never truly be ready for a West stream of consciousness, no matter how much practice we get.