Kentucky Rep. Mary Lou Marzian Wants Men Purchasing Viagra to Get Notes From Wives First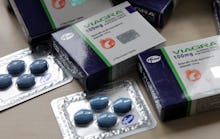 A state legislator from Louisville, Kentucky, has a new requirement for men who want to get a prescription for Viagra—permission from their wives.
State Rep. Mary Lou Marzian, a Democrat, introduced a bill last week that would require a man seeking erectile dysfunction drugs like Viagra to have a "signed and dated letter of approval from his spouse," and to have "two office visits with a healthcare practitioner" before getting the pills, reported local outlet WDRB.
"I want to protect these men from themselves," Marzian told the Courier-Journal on Monday.
Read More: This Genius Lawmaker Wants to Regulate Men's Erections
If Marzian's new Viagra bill seems extreme to you, this is what you need to know: It was introduced in response to a bill recently signed by Kentucky Gov. Matt Bevin which requires women "to have a face-to-face consultation with a healthcare provider before getting an abortion," WDRB reported. 
Marzian was one of only three members of the Kentucky House to vote against that bill, which passed with 92 votes in favor.
"In the Kentucky General Assembly, there are at least six or seven anti-choice bills filed to restrict access to women's reproductive health," Marzian told WDRB. "I am appalled that the Kentucky General Assembly, which, very few have any medical degrees, feel that it is important that they insert themselves between a woman and her physician."
"I started thinking how would this body of men – there are 80 men in the House — feel if they were subjected to the same kind of government interference in their medical, private decisions," Marzian said.
Although Marzian doesn't expect her bill to actually become a law (she also included a requirement that men swear on a Bible that the Viagra will only be used for sex with a spouse), she is far more focused on making an important point about laws that affect women's health. 
Marzian is by no means the only lawmaker to use Viagra to make a statement about women's reproductive health — back in 2012, Ohio state Sen. Nina Turner proposed a bill that would have required men to seek psychological counseling before getting a prescription for erectile dysfunction drugs. 
Speaking about the bill to the Huffington Post, Turner said, "We need to fight fire with fire."
Get the five stories that will challenge you to rethink the world by signing up for MicCheck Daily.