The 'Daredevil' Season 2 Trailer Was Just Released — And It's Already Darker Than Season 1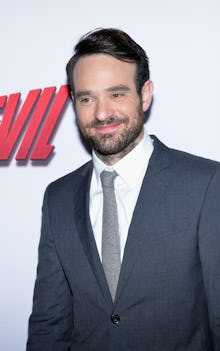 The first official trailer for season two of Netflix and Marvel's Daredevil series is here, and the second season is already shaping-up to be epically dark. 
The show stars Charlie Cox as Matt Murdock, aka Daredevil, a lawyer-by-day and a crime-fighting superhero by night. As diehard fans will tell you, a gruesome childhood accident involving toxic waste left Murdock blind but gifted with special abilities.
The first season saw Murdock tackling crime in his New York City neighborhood of Hell's Kitchen (also the home of fellow Marvel superhero Jessica Jones). And the second season, well... if the eerie new trailer is any indication, season two will have Murdock grappling with the meaning of justice as he bumps up against another, more extreme vigilante, played by The Walking Dead's Jon Bernthal.
New showrunner Doug Petrie told Entertainment Weekly that the contrast between Daredevil and Bernthal's character, who goes by the Punisher and uses guns instead of fancy punches and kicks, will force fans to think hard about the nature of heroes and villains.
Read More: There's Some 'Star Wars' Episode 8 Casting News That's Even Cooler Than Darth Maul's Lightsaber
"Viewers watching the show will be rooting for this guy with a gun but we're also going to force people — the way we force Matt — to second-guess themselves," Petrie said in December. "Taking lethal justice into your own hands in America in 2015 is tricky s—t. We have not shied away from the rich complicated reality of Now. If you've got a gun and you're not the police you're going to incite strong feelings. We're stirring the pot and we're aware of the headlines where we live and we're trying to get people to think."
The 13-episode, second season of Daredevil premieres March 18 on Netflix.