'Sports Illustrated' Just Made History With Its Swimsuit Cover — And It's About Time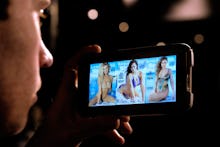 Good things come in threes, and that couldn't be more true for this year's Sports Illustrated swimsuit edition: For the first time ever, the issue has three different covers with three different models.
And they're exactly the kind of cover models we've been waiting for.
Plus-size model Ashley Graham, model Hailey Clauson and UFC champion Ronda Rousey are the chosen ones, representing a diverse array of different body types — an uncharacteristic move for the magazine, which has a history of selecting seemingly flawless women with athletic or slender builds.
"All three women are beautiful, sexy and strong," Assistant Managing Editor MJ Day said at the Sports Illustrated Swimsuit 2016 Revealed event on Sunday night. 
"Beauty is not cookie cutter," Day added. "Beauty is not 'one size fits all.' Beauty is all around us and that became especially obvious to me while shooting and editing this year's issue."
Read More: The 'Sports Illustrated' Ads That Just Made Beautiful, Beautiful History
The magazine also made history on Wednesday with the Swimsuits for All #SwimSexy ad campaign, another facet of the swimsuit edition which was refreshingly diverse. It features British-Ghanaian model Philomena Kwao and 56-year-old Nicola Griffin, the oldest model to ever be part of the swimsuit edition. 
Twitterati were best pleased with the publication's evolution and weren't quiet about it: 
Sports Illustrated is the latest in a string of publications and ad campaigns to embrace the movement to promote healthier and more inclusive body types for women. 
Finally, an edition which (swim)suits women of every age, color and size. 
Source: Sports Illustrated