Eddie Redmayne Just Took Credit for Trans Rights — And Twitter Is Taking Him Down for It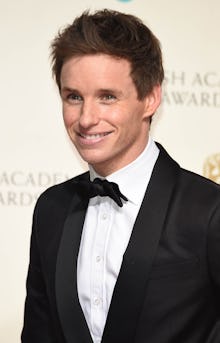 British actor and The Danish Girl cis-star Eddie Redmayne just basically gave himself the world's loudest pat on the back for "introducing" the world to the struggles of the trans community — and Twitter, predictably, is having none of it.
Redmayne is nominated for an Oscar for his portrayal of Lili Elbe, a real person and one of the first transgender women to undergo transition-related surgery. At the British Academy of Film and Television Arts Awards on Sunday, Redmayne told a BBC reporter that "It's extraordinary how trans issues have come into the mainstream media since we made Danish Girl," according to a tweet from the BBC.
Social media users were quick to take jabs at Redmayne's apparent implication that The Danish Girl deserves credit for bringing trans issues into the "mainstream media."
And some brought up the fact that Redmayne, a cis man, was cast to play Elbe rather than a trans actor:
Even if Redmayne's point was not that The Danish Girl single-handedly brought trans issues into the spotlight, but that films with trans characters help to spread awareness, he might do well to take a cue from Transparent creator Jill Soloway, who used her spotlight at the 2015 Emmys to draw attention to the lack of basic rights faced by trans people in the U.S. Come on Redmayne, with great power comes great responsibility.
Read More: 'The Danish Girl' Proves Exactly Why Good Intentions Are Not Enough