If You Love Animals and Free Speech, You Should Be Worried About Ag-Gag Laws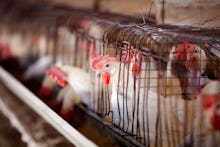 In December, the animal-rights group Mercy For Animals released a video exposing instances of animal cruelty and abuse at local chicken farms in Rockingham, North Carolina. The videos prompted local authorities to arrest farm worker Danny Cajija Miranda, charging him with four counts of animal cruelty. In the video Miranda, 22, is seen killing four chickens by grinding their heads with the heel of his foot. 
The investigation prompted Perdue, one of the largest poultry processing companies in the country and a client of the two farms in question, to sever ties with the farms and condemn the practices on display. "Even though they were not directly involved in the mistreatment," Perdue officials said in a statement, "we trust our contract farmers to ensure that our chickens are cared for appropriately, and unfortunately that did not happen here."
If Mercy for Animals had released the same video in North Carolina just weeks later, the organization could have been fined up to $5,000 for every day it made the recordings. That's because on Jan. 1, North Carolina became the latest state to outlaw taking photos or video with the intention of exposing abuse or criminal activity in the private spaces of any employer in the state. 
Known as "ag-gag" laws for effectively criminalizing attempts to report such practices in the agriculture industry, such legislation is raising concerns among animal-rights groups and First Amendment advocates who fear a chilling effect that could go well beyond farms and feedlots.
Seven states have passed similar legislation since 2011. But while others typically have focused on the agriculture industry, North Carolina's House Bill 405, or the Property Protection Act, extends to any employer. On Jan. 13, a number of animal-rights activism groups filed a complaint, claiming that the law violates the First and Fourteenth Amendments.
In four of those states, animal-rights groups are currently fighting the laws, claiming that they violate free speech and equal protection rights.
"The North Carolina ag-gag law refers to employees going into non-public spaces of their employers to gather information or to document things," Michael McFadden, policy and program coordinator and general counsel for the group Farm Forward, told Mic. Farm Forward is joining the lawsuit against the North Carolina law. "[If] a good employee, an honest employee, wants to try to expose abuse — and to do so, he goes in the areas that he wouldn't have access to — this law is written so broadly and so vaguely that it would criminalize that."
'The Jungle' Revisited. Activists and investigative journalists have been watchdogging the modern food industry ever since Upton Sinclair's The Jungle exposed the brutishness of Chicago slaughterhouses and meat packers in 1906. A century later, after recent undercover investigations — including a 2008 Humane Society video that revealed abusive practices at a slaughterhouse and led to the biggest recall of beef in U.S. history — the industry and its lobbyists have started pushing state legislators for new laws to shield their practices from public view.
Many of the laws prohibit employees from capturing photos and video in parts of their employer's facilities that are not open to the public. Others aim to prevent investigators from posing as employees by requiring applicants to disclose if they are affiliated with an animal-rights activist group.
In all of the states where these bills have become law, animal-rights groups are fighting the legislation, claiming they are unconstitutional. The Animal Legal Defense Fund (ALDF) is a plaintiff on complaints filed in Utah, Idaho and North Carolina.
"Whatever one's view is on the ethics of eating animals or animal products, I think people would agree that we have to have access to accurate information to have a robust and productive debate on that question," ALDF Senior Attorney Matthew Liebman told Mic.
A 2012 poll conducted by the American Society for the Prevention of Cruelty to Animals (ASPCA) by Lake Research found that 71% of Americans support undercover "investigative efforts that expose animal abuse, and that 64% oppose making such investigations illegal." Undercover investigations from organizations like the Humane Society, PETA and Mercy for Animals have revealed severe cases of animal abuse and cruelty on numerous occasions, several within the last year.
"There have been more than 100 investigations in the last decade by animal protection organizations, and every one of them has revealed immense suffering both in terms of gratuitous acts of cruelty by animal workers but also things that are endemic and systemic throughout the industry," Liebman said. "The whole purpose of these laws is to silence the debate, which I think is quite clearly contrary to the values of the First Amendment."
Witness or Trespasser? At a time when citizens and their cellphones routinely document potentially criminal behavior, critics argue that ag-gag laws may infringe on the basic freedom to bear witness to and report wrongdoing.
In 2013, after taking a cellphone video of a downed cow being forklifted around the parking lot of a slaughterhouse in Utah, Amy Meyer was charged for capturing footage of private property — even though she was standing on a public sidewalk at the time. The charges were quickly dropped after national public outcry, but Utah's ag-gag legislation remains in place.
Matthew Strugar, general counsel for the PETA Foundation, is a plaintiff on four First Amendment complaints that have been filed against ag-gag legislation in Utah, Idaho, Wyoming and North Carolina.
"For the provisions that prohibit filming outright, our arguments are that those are unconstitutional restrictions on the ability to gather news," Strugar told Mic. "The same way you can't pass a prohibition that someone can't take notes of what they see."
A federal judge in Idaho agreed, striking down the state's ag-gag legislation in August as a violation of the First and Fourteenth Amendments. He wrote in his final decision, re-printed in a New York Times op-ed, the investigations that the law attempted to criminalize "actually advance core First Amendment values by exposing misconduct to the public eye and facilitating dialogue on issues of considerable public interest."
Wyoming's law, says Strugar, is a Data Censorship Statute, which bars the collection of any kind of data — digital photos and video included — from private businesses.
"These ag-gag bills would have criminalized what Upton Sinclair did when he went into the Chicago meatpacking industry, but today people don't just go out and write a book," Strugar said. "Video is ubiquitous. It's pervasive in our culture. The more it becomes a part of our culture, the more it essentially is a modern notebook."
"Video is ubiquitous. It's pervasive in our culture. The more it becomes a part of our culture, the more it essentially is a modern notebook."
Lawmakers who support this type of legislation believe it protects businesses against organizations or people who are attempting to discredit these private businesses unfairly. In North Carolina, Gov. Pat McCrory initially voiced support for the Property Protection Act, saying in a statement that it was "intended to address a valid concern of our state's businesses — how to discourage those bad actors who seek employment with the intent to engage in corporate espionage or act as an undercover investigator." 
But McCrory ultimately vetoed the bill, concluding that it "does not adequately protect or give clear guidance to honest employees who uncover criminal activity." The legislature overrode his veto.
Mic reached out to every North Carolina legislator who sponsored House Bill 405 but received comment from only one representative.
"House Bill 405, the Property Protection Act, is good, common sense legislation that became law with strong bi-partisan support," Rep. John Szoka (R-N.C.) told Mic in an email.
For its part as a potential beneficiary of the law, Perdue has not taken an official position on the North Carolina bill or similar legislation, a spokesperson told Mic in an email.
Shining a Light. PETA and other animal rights groups are tracking ag-gag bills moving through state legislatures and, in some cases, have successfully defeated them before they became law, including proposals in California, Washington, Florida and Pennsylvania, among others.
Farm Forward has started a national petition to fight such legislation and created Buyingpoultry.com to encourage consumers to learn more about the food they buy at the grocery store. 
"Our food system is incredibly complex," Farm Forward's McFadden said. "You've gone from a situation where you might know a farmer from down the road and that's where you get your animal products from to a situation where you go to buy a steak from the grocery store and you don't even know what state it came from, much less what farmer."
The release of the Mercy for Animals video in December 2015 arguably achieved its goal of raising awareness and spurring a conversation about conditions on animal farms. In addition to its initial response to the revelations, Perdue has stated its intentions to implement better oversight of its contractors' practices.
"There was clear abuse shown in the video by the farm employee, and that we don't condone," Perdue spokeswoman Julie DeYoung told Mic, adding that the company maintains best management practices for handling its animals, and it holds annual training for the farmers who work on its contract farms — all of which are audited by the USDA. "We are looking for ways to continue to improve the way that our birds are raised."
Activists argue that this sort of responsiveness and accountability depends on protecting the freedom to bring such "clear abuse" to light.
"Out of sight, out of mind is a really powerful principle when it comes to factory farming," McFadden said. "To the extent that the industry can shut down the investigations, I think, at some level, is the extent to which they can quash these tough conversations we're having with ourselves and our families."
As PETA's Strugar noted, those tough conversations are by no means limited to the food at the dinner table: "Any laws that restrict free speech and that survives judicial review can then be used as precedent for further erosion of speech rights for other contexts or against other groups."
Editor's Note: To learn more about ag-gag laws from first person accounts of whistleblowers themselves, check out the Feb. 19 episode of Truth and Power (Fridays at 10 p.m. Eastern/Pacific on Pivot). Sneak peek below:
Pivot's "Know Your Rights" campaign, in association with the ACLU of Southern California, empowers you to learn more about your civil liberties in the digital age. Understand your rights when exposing other instances of injustice by taking action below.