Lauren Wasser, Model Who Lost Her Leg to Toxic Shock Syndrome, Makes Fashion Week Debut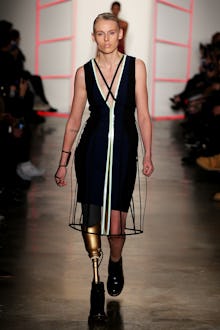 Lauren Wasser is most commonly known as the model who sparked a global conversation about toxic shock syndrome, a complication she says she contracted while using a tampon, resulting in the amputation of the lower part of her right leg in 2012.
But Wasser didn't let that stop her. Over the past few months, she's inched her way back into the public eye, first by suing Kotex — the brand she says is responsible for the tampon that caused her illness, which earned her her very own Vice profile in June. Then at the tail end of 2015, as Mic reported at the time, she appeared in a campaign modeling Nike sneakers and activewear for fashion retailer Nordstrom.
It was a big step for Wasser, since the only modeling she had done since the amputation was for her photographer girlfriend, Jennifer Rovero. Rovero helped her regain confidence through "photo therapy," or regularly having her picture taken. 
Now, less than two months later, she's walking in her very first New York Fashion Week. 
For her 2016 New York Fashion Week debut, Wasser walked for Chromat, the forward-thinking brand headed by designer Becca McCharen, specializing in caged lingerie, activewear and dresses. 
At the show on Friday, titled "Lumina," she donned a black caged dress, blue eyeliner and black patent leather Doc Martens. A slew of other models who are challenging the norm of what it means to be a model joined Wasser — including Juliana Huxtable, a transgender artist and musician, Isis King, America's Next Top Model's first-ever transgender contestant and top plus-size models including Sabina Karlsson and Denise Bidot. 
For both Bidot and Karlsson, it wasn't even their first time walking together in Fashion Week for Chromat, a brand that has now made a name for itself by casting a diverse set of models. As the designer for Chromat, McCharen, recently told Refinery29, "As fashion designers, we have the power to highlight and celebrate beauty in all different forms. For me personally, Chromat women are doing amazing things in all different fields and come from all different places. We wanted to take this opportunity to celebrate those women and have these incredible women reflected in our runway show."
In September, Chromat was named the most diverse show of all of fashion week. The show included plus-size models, and 14 out of its 20 models were models of color. So Wasser's debut at NYFW this year couldn't have been in better company.
"Becca speaks to the future, so it's easy for someone like me to believe in her because she believes in me," Wasser told Mic. "I feel honored to be apart of this brand. Plus it's awesome to grow alongside someone." 
Chromat's show got some notice from its utilization of technology, partnering with technology company Intel for the second time to bring fashion into the future. Many of the models (Wasser included) sported dresses and separates adorned with strips of LED lights, which they were able to control from a caged glove fashioned on their hands. 
In her September show, McCharen, who has a background in architectural design, showed what was known as the "bra of the future." The garment self-ventilated to relieve users of dreaded boob sweat, as well as carbon-fiber wings that opened when the model experienced an adrenaline rush. More than any other brand today, Chromat is looking toward the future when it comes to both technology and inclusivity in fashion. 
"I don't know if everyone can feel this way, but when you don't see yourself reflected in the runway shows, it is really damaging," McCharen told Refinery29. "It is crazy when you feel like you are recognized, when you see people who look like you in these realms, it opens up a whole new possibility in your mind."
The representation Wasser is bringing to the runways is vital, since we live in a world that has a tendency to insensitively glamorize disability. That's a conversation that kickstarted in late 2015 when Kylie Jenner came under fire for an Interview magazine cover that found the social media celebrity posing provocatively in a wheelchair. 
It's something that even sprung Wasser herself into action, posting an image to Instagram of herself posing in a wheelchair with the caption "real life." 
Wasser walking in one of the most talked-about shows of NYFW matters not only for her career, but for the throngs of people who will see her and realize that having a disability isn't limiting in achieving one's dreams. 
Get the five stories that will challenge you to rethink the world by signing up for MicCheck Daily.