In One Instagram Post, Adidas Just Shot Down Homophobic Internet Trolls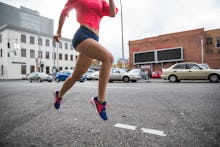 Sneaker and sportswear company Adidas celebrated Valentine's Day on Sunday with an Instagram post of two women enjoying what appears to be a romantic, post-workout embrace, with the caption "The love you take is equal to the love you make."
Predictably, homophobic trolls swarmed the comments section, leaving hateful, anti-gay messages. But Adidas had the perfect comeback.
After people left messages like "Shame on you adidas ... I'm going to Nike now" and "This day is for boy and girl ... not for lesbians," Adidas waved them off with kiss emojis, replying to one angry comment, "No, this day is for LOVE. Happy Valentines Day."
As of Monday afternoon, the initial Instagram post had racked up 160 thousand likes and 75 thousand comments, many of which praised Adidas for its inclusivity (and snappy comebacks). Apparently, Adidas gets what the trolls just don't: Love wins, and so do companies that aren't afraid to include everyone.