Demi Lovato and John Legend Bring Down the House in Lionel Richie Grammy Tribute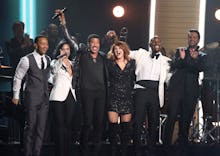 Matt Sayles/AP
Perhaps the only way the Recording Academy could have improved upon its tribute to four-time Grammy winner Lionel Richie would have been to cap it all off by presenting the original "Hello" singer with a bust of his own head.
As it stands, though, the honorary performance staged by Demi Lovato, John Legend, Meghan Trainor, Tyrese and Luke Bryan at the 2016 Grammy Awards on Monday night was a pretty spectacular arrangement, not least because each of the artists who participated brought to Richie's songs an obvious and deep appreciation for him and his music.
Read more:
"He's one of the greatest songwriters of all time," Trainor told People at a rehearsal for the event. "As a songwriter coming up, I said, 'I want to be him'...So getting to do this is like a dream. I tried so hard all day not to cry multiple times."
Richie, who was honored as MusiCare's 2016 Person of the Year on Feb. 13, couldn't be more deserving of a tribute. According to the bio on his website, he's sold over 100 million albums around the world over the course of his decades-long career, which he began as a member of The Commodores ("Brick House," "Three Times a Lady," "Stuck on You"). 
He left The Commodores and launched his own career in 1981, firing off a number of hits that helped define the sound of the '80s, such as "All Night Long," "Dancing on the Ceiling," "Hello" (that video where Richie's love interest crafts an uncanny clay replica of his head). He's worked with such renowned artists as Diana Ross, Michael Jackson and Willie Nelson in his more than 30 years making music as a solo artist.
At music's biggest night, John Legend's rendition of "Easy Like Sunday Morning" was smooth enough to get Richie grooving in his seat. Lovato put her pipes on full blast, rivaling Adele for the most feel-stirring rendition of "Hello" in recent memory.
Luke Bryan took the stage for "Penny Lover," to mixed reviews and moderate confusion from Twitter, before Meghan Trainor got Richie singing along to "You Are the Sun, You Are the Rain" with her from his chair. 
Then Tyrese gave us a funky performance of "Brick House" that was more than Richie could bear; he had to get in on the action. He ran up to join Legend, Lovato, Bryan, Trainor and Tyrese for "All Night Long," on stage, belting out his iconic hit before an enormous neon rendering of his own face. The entire audience got to its feet, and Twitter went nuts.