This 10-Year-Old Gets Sweet Revenge on Body-Shaming Bullies With a Plus-Size Clothing Line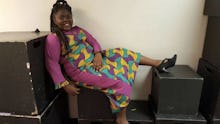 Most stories involving bullied fifth graders don't often end with a presentation at New York Fashion Week. Then again, most girls aren't Egypt "Ify" Ufele, the 10-year-old who turned personal trauma into something far more beautiful.
The ambitious Ufele, whose story made it to NBC's Today, was relentlessly teased at school for her size — in one instance being stabbed by a fellow student with a pencil. So she decided to indirectly fight back in the best way possible, not only pursuing her dream of designing clothes, but by celebrating plus-size girls through her collection.
Read more: This Badass High School Senior Just Responded to Haters in the Most Beautiful Way
"She started [making] dolls clothes with a regular sewing needle by hand, and she started designing clothes and sketching," her grandmother, Nellie Rembert, told Today, reflecting on Ufele's journey.
After finessing her skills, she began the ambitious undertaking of creating her own line, which she named Chubiiline, with the dual mission of creating beautiful plus-size clothing and "bringing Africa to America."
"I turned negative attention into positive attention," Ufele said.
According to Today, she's the only child designer dressing curvy models during New York Fashion Week. In fact, she's one of the only designers showcasing plus-size models over the course of the week's 140+ shows.
Ufele is also the youngest in a series of young women who have used their own art as an empowering way to combat haters. As Beyoncé notes in "Formation," "Always stay gracious, best revenge is your paper." 
With a natural poise and a sharp eye for inclusivity, this 10-year-old is proving Bey's gospel in spades.