The Internet Was Not Feeling Taylor Swift's New Look at the Grammys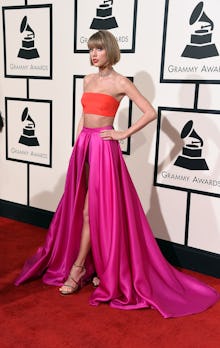 We all knew that Taylor Swift would immediately make headlines once she stepped on the red carpet for the 2016 Grammys – that was a given. We just didn't know that it was going to be all about her hair.
On Monday night, Swift stepped out with a brand new chop, and the internet was not feeling it. In fact, they had a quite a few comparisons to draw almost immediately. 
First, there were those that immediately called to mind "Anna Wintour." For many, it seemed like the "Bad Blood" singer was trying to invoke Vogue's most notorious editor with her blunt, choppy bob and equally choppy bangs. 
Next, Twitter users were like, "Willy Wonka, is that you?" 
Then, as expected, the memes started rolling on in. 
But what really drew the most vicious (and admittedly humorous) social media outpouring was Swift's outfit, courtesy of Atelier Versace. The look was comprised of a red tube top and a hot pink skirt. Yet hidden underneath that skirt, peeking prominently out in the middle, was a tiny, itty-bitty pair of hot pink ... leotard bottoms?
Many online were equally confused, noting its resemblance to a diaper.
But what few people caught onto was that Swift's color clashing was quite on trend. So on trend, in fact, that another songstress was wearing a dress relatively similar to Swift's — except without the bared midriff and hot pink diaper. 
Little Big Town singer Karen Fairchild's Alexia Maria creation was identical to Swift's in terms of replicating color blocking. Unlike Swift's, however, thanks to the differences, it actually worked. 
What the internet's reaction may teach us — and Swift — is that if you decide to debut a dramatic new look, expect a whole lot of heat and an endless stream of memes to follow.