Taylor Swift Just Won the Video of the Year Grammy for "Bad Blood"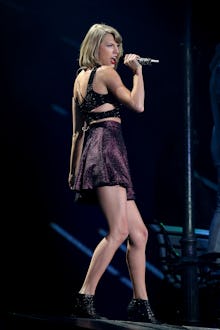 Band-aids don't fix bullet holes — but do they fix the wounds from bad awards show decisions?
Among the batch of the awards announced ahead of the actual show, the Grammys gave out their best video of the year award. The winner, as it was at this year's MTV Video Music Awards, was Taylor Swift's "Bad Blood."
The pop star, in true Swiftian fashion, registered her and her friends' shock through a video posted on her Twitter account. Particularly surprised by the news was Selena Gomez, one member of the cavalcade of celebrities cast in Swift's music video. Also included in the video: Lena Dunham, Mariska Hargitay, Ellen Pompeo, Jessica Alba, Hailee Steinfeld, Gigi Hadid and many more.
"Bad Blood" was a perfect storm of female friendship at the peak of Swift's #squadgoals hype cyclone. But it also represents best why Swift's squad was problematic — and why it makes for a particularly mediocre video-of-the-year winner.
Like almost all of Swift's songs, "Bad Blood" has a specific person in mind. The song was inspired by Swift's feud with former friend Katy Perry. The two reportedly started fighting after dancers on Swift's tour left for Perry's. Since then, Perry has alluded to their fight, but neither has talked at length about it.
Instead, Swift cast Gomez as a Perry avatar and stacked an army of female friends (all of whom happen to be celebrities) against her in a war. For a woman who has embraced feminism, the video was an odd move. Look at the power of female friendship, she seemed to say. Look how women can come together to fight one specific woman who pissed her off.
This isn't just a case of a pop star thrust into a video with which she doesn't agree. This is Swift's brainchild; even on the red carpet before the Grammys began, director Joseph Kahn admitted to interviewer Ryan Seacrest that Swift had a tremendous amount of input. Swift's video must be seen not just as something that features her, but as her artistic statement.
Thus, awarding the video feels like rewarding bad politics — but it's also rewarding a bad video, too. Sure, Kahn brought a certain directorial flair to it; Time even compared the video to a movie like Sin City. But the women themselves barely get a second or two each in the video. Their introductions are all they get before they're shuffled off to make room for the next cameo. They're less "characters" and more "props."
So even if you take its warped, hypocritical message, "Bad Blood" is a failure, and it's certainly unworthy of the Grammy for video of the year. Did voters really find it better than the video of Kendrick Lamar's stirring protest anthem "Alright"? Over Pharrell's "Freedom"? Over A$AP Rocky's "LSD"?
It remains to be seen how Swift will fare in the top-line categories like album of the year Monday night. But at least in this race, the Grammys made a strange call. It's understandable one — pick the biggest pop artist in a video full of celebrity appearances — but that doesn't make it the right one.