Taylor Swift's Performance Proves She Isn't Over Her Peak Yet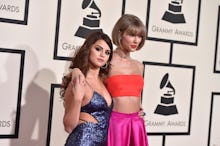 Taylor Swift opened the 2016 Grammy Awards stomping, belting and screaming — none of which was to Twitter's liking.
Performing her 1989 single "Out of the Woods," Swift changed out of her red carpet diaper and into a glittery jumpsuit. She commanded a stage appropriately adorned in creepy trees to match the song's vibe. With Bleachers' Jack Antonoff on guitar, a severe reduction in Swift's usual squad, Swift went for an impressive bit of singing.
She went for fierce style, too, as she welcomed the audience both in studio and at home to the Grammys with a fierce walk into the crowd. The audience members were clad with lit-up bracelets given to them in order to replicate Swift's 1989 World Tour experience.
On both style and vocal prowess, Swift was clearly reaching for the stars. But Twitter users knocked her right back to earth, taking issue with the performance.
The tepid response to her performance, despite some attempted choreography and vocal flourishes, is an indication that we haven't quite gotten off Peak Taylor Swift yet. She had a surprisingly bad 2015 despite some major successes. 2016 could be a return to form, but shaky high notes aren't a sign that such a comeback is on the way.
Of course, pop stars have certainly dealt with worse. Swift is still one of the biggest pop stars in the world. She's just got to get — pardon the pun — out of the woods.