Zendaya Just Brought Back the Mullet on the Grammys Red Carpet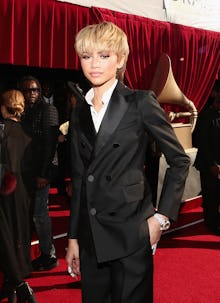 Zendaya is pretty fearless when it comes to experimenting with her hair. She's rocked dreadlocks, a short pixie, an afro and more, and rightfully defended her bold choices along the way. 
So it only really makes sense that on the Grammys red carpet on Monday, Zendaya brought back the mullet. You know, the same "business in the front, party in the back" hairstyle that Miley Cyrus' dad, Billy Ray, used to have – and the look your dad probably rocked in 1986.
And you know what? She pulled it off. 
She pulled it off better than probably anyone else is capable of pulling it off. And that's saying a lot. 
By pairing the new look with a black and white tux by Dsquared2, Zendaya went for cool girl androgyny a la Jane Fonda in Klute. The look itself appears to be brand new, since the 19-year-old singer and actress was photographed earlier on Monday with a simple blonde bowl cut, sans the back fringe. 
According to her on-air interview with Entertainment Tonight, Zendaya was totally chill about the brand new look, telling her stylist, "Let's just do a mullet!"
Now, of course, Twitter trolls inevitably jumped on this look immediately... 
But she also felt the love from avid fans of hers who understand that part of Zendaya's allure is that she is fearless and outspoken when it comes to her looks. 
And if Zendaya's track record of defending her daring sartorial decisions has taught us anything, it's that she'll have the perfect response to all these haters in no time at all.