Miguel's Grammy Performance Made a Case for Why He's Vital to the Future of R&B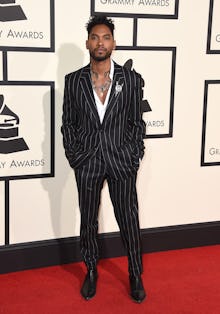 Jordan Strauss/AP
Miguel seemed right at home on Monday night during the 58th Grammy Awards in California and proved to the world why Wildheart might be one of the most underrated albums of 2015. The R&B hitmaker paid tribute to Michael Jackson, performing one of the most popular tracks off the musician's 1979 album Off The Wall, "She's Out Of My Life." 
The album is scheduled to be re-released on Feb. 26, and Miguel lit the stage on fire with his gripping and emotional performance of the classic Jackson hit. 
Read more:
He wasn't the only artist dedicating their night to some of the greatest musicians. Lady Gaga, who donned a David Bowie outfit and makeup on the 2016 Grammys red carpet, performed a series of the performer's greatest hits. 
Miguel's performance showed the artist's incredible vocal range, and proved exactly why he's been a staple in the music industry and airwaves throughout his entire career. 
Miguel then presented the best rock album award to Alabama Shakes for Sound & Color. Watch his tribute performance below: