Alabama Shakes' Grammy Performance Just Showed the World Rock 'n' Roll Is Not Dead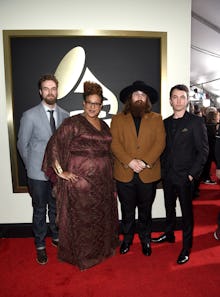 Larry Busacca/Getty Images
If anyone thought rock 'n' roll had run its course in popular music, they were proven wrong at Monday night's 58th Grammy Awards. Not only did the famous Alabama rock band Alabama Shakes pick up multiple awards, the group also had a memorable performance among some of the most notable mainstream artists in the industry. 
Alabama Shakes won the award for best non-classical engineered album for Sound & Color. The album is a Southern rock anthem released on April 21 with most of its roots deep in rock 'n' roll, garage rock and soul music. The band also picked up the award for best rock song for the album's biggest hit and first single, "Don't Wanna Fight."
Read more:
The group's most recent album also won the award for best alternative music album, beating fellow alternative rock band Wilco's latest release, Star Wars, Tame Impala's Currents and even My Morning Jacket's The Waterfall, as well as Bjork's latest Vulnicura. This is the first year Alabama Shakes has picked up any awards, so their explosive performance was the cherry on top of a ridiculous welcoming party for the rock band into the coveted night for music. 
Frontwoman Brittany Howard looked angelic in all white as she led the audience in singing along to one of the band's most critical hits off Sound & Color, "Don't Wanna Fight." 
Howard nailed her vocals flawlessly while strumming along on a green electric guitar, as her white cape flowed on the stage. The band recruited the help of three backup singers, two female and one male, who accompanied Howard in nailing the hook. Howard's emotional performance sounded nearly identical to the track featured on the group's album.