Ed Sheeran's "Thinking Out Loud" Wins Song of the Year at the 2016 Grammys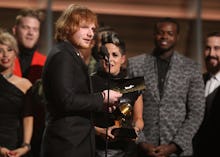 Matt Sayles/AP
In a surprise twist — especially as far as Taylor Swift is concerned — Ed Sheeran won song of the year for his hit, "Thinking Out Loud" off 2014's x (or Multiply), at the 2016 Grammys. When one considers that Sheeran holds Spotify title of most streamed artist of all time, with upwards of 3 billion streams and, in 2015, over 59 million listeners, the win isn't actually all that surprising.
Much of the Grammy-watching world, however, may have predicted that the win would go to Swift's "Blank Space." When the award was announced, the glittering pop star proved herself a solid friend and #squad leader by jumping up to congratulate Sheeran.
This isn't Sheeran's first win of the night. "Thinking Out Loud" also snagged him best solo performance. He was also nominated for record of the year and album of the year.  
Help skyrocket Sheeran's Spotify stats and give "Thinking Out Loud" a listen.