The Cast of 'Hamilton' Just Showed the World Why It's a Modern Theater Masterpiece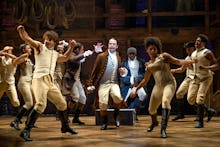 "Alexander Hamilton," Hamilton creator Lin-Manuel Miranda sang to rapturous applause at the Richard Rodgers Theatre Monday night. The performance wasn't just contained to the Rodgers, however — for the first time, the performance was broadcast nationwide during the 2016 Grammy Awards. Millions across the country, far from the bastion of New York, got to hear Miranda sing, "My name is Alexander Hamilton." 
With those words, and an incredible performance of opening song "Alexander Hamilton," the cast of Broadway's hugest sensation just proved why it's our modern musical masterpiece.
There's much to recommend about Hamilton, perhaps the biggest musical theater hit since Rent two decades ago. Yet for their Grammys performance, the creative team decided to go with the opening song. It was a savvy choice, for the song sets the stage for the rest of the show. It brings Hamilton, one of our more forgotten Founding Fathers, to New York where he hopes to become "a new man."
With fellow cast members Leslie Odom Jr., Renée Elise Goldsberry, Philippa Soo, Christopher Jackson and more by his side, Miranda made the most of Hamilton's introduction.
The performance towered high against even pop's biggest stars — and Twitter took note.
On a night made for honoring the most exciting modern music, the Hamilton performance did just that. It was, to borrow the show's own insistent terminology, a true Grammy moment. To watch them win the Grammy for best musical theater album after was just icing on the cake.
Miranda even accepted the award in rap form. That speech, stylized as he performed it:
We write music, we write lyrics to tell a story.
Watch him perform alongside the cast as they accept their award below.