Lady Gaga Went Full Bowie on the Grammys Red Carpet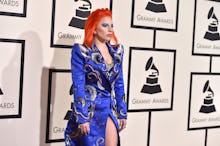 Well, this makes sense. 
On Monday's red carpet for the 2016 Grammys, Lady Gaga showed up in a full David Bowie homage. And we're talking from her electric redheaded head to her highly-platformed toes. 
As a style icon in her own right, and a performer who will be paying tribute to Bowie's legacy during the show, the sartorial decision was spot-on. 
So let's break down the look: For starters, the hair was coiffed up and dyed a fire hydrant red. The eyeshadow was an exaggerated aqua sparkly cat eye. The cheeks were sucked in. For her dress, Gaga opted for a custom Marc Jacobs deep blue satin shoulder-padded coat with a bejeweled top and tiny bottoms underneath, much like Taylor Swift's tiny bottoms, but thankfully not exactly. Then for the shoes, she opted for sky high, strappy satin red platformed pumps. 
It's a look that would surely make Bowie, who died on January 10 at the age of 69, proud. 
After all, his often outlandish and groundbreaking fashion choices have been an inspiration to designers and performers for more than 40 years now. And for Gaga specifically, she's a big enough fan to have gotten a full Bowie tattoo on her ribcage days before the show. 
For a night of relatively tame fashion choices, Gaga stood out. Adele went for all black and Swift went for her own take on a tube-topped gown, while as of the ceremony's start, Rihanna remained a no-show. So Gaga's overstated presence was a welcome one. 
It's also a look that would have worked nowhere else. On a night that's supposed to be all about music, Gaga paid tribute to one of her musical idols, and with it, an iconic look was born.  
Gaga's had a long history of show-stopping looks at the Grammy Awards. In 2010, she was a stellar dollop of cotton candy. In 2011, she turned heads arriving in an egg. In 2012, she was a caged dominatrix. After a two-year absence, she reemerged on the Grammys red carpet in 2015 as a sultry Hollywood actress, curled hair and all. 
But this is a look that goes beyond wanting to make an entrance, and more about making the night about someone other than herself. She made her presence at the show about music and one of the most innovative, creative and daring figures the world has ever seen.