Grammys 2016 Liveblog: Winners, Performances and Highlights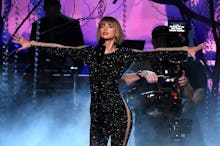 Kevin Winter/Getty Images
The 58th Grammy Awards show unfurled Monday night and the evening boasted no shortage of performances from big-time performers in between the accolades bestowed on musicians. After a dazzling red carpet show, heavyweight pop artist Taylor Swift helped kickoff the night with a live rendition of "Out Of The Woods." Clad in a glittery bodysuit, Swift's performance helped set the tone for a high-energy night that, like music, revealed its intricacies in time. CBS broadcasted the event live from the Staples Center in Los Angeles.
"Hello and welcome to the 2016 Grammy Awards, Swift addressed the crowd," before the evening's host, L.L. Cool J took the stage. "Our shared love of music unites us," he reminded audiences, "All of us."
Read more:
Check back for updates as Mic will be live blogging the event. 
The first award of the evening was for best rap album, and the prestigious hardware went to Kendrick Lamar for his third album, To Pimp a Butterfly. After a brief acceptance speech from Lamar, the night took a turn in the direction of country music, as Sam Hunt and Carrie Underwood performed a lush duet of "Heartbeat." 
Sam Hunt, this year's breakout country star, was also up for the best new artist award during Monday's event, and will compete with Courtney Barnett, James Bay, Tori Kelly and Meghan Trainor to win that award. Perhaps as proof of the impact Hunt's made to date, his 2014 LP Montevallo has also been nominated for best country album, and is up against Little Big Town's Pain Killer, Ashley Monroe's The Blade, Kacey Musgraves' Pageant Material and Chris Stapleton's Traveller.
Tuxedo-clad and dapper, Abel Tesfaye a.k.a. The Weeknd, took the stage next to deliver a poignant live performance complete with the musical support from a cellist on stage. 
Before any more awards were revealed, Audra Day and Ellie Goulding performed a duet mashup of "Rise Up" and "Love Me Like You Do." Donned in a glamorous white fur coat, Day's delivery stole the spotlight. And despite the solid showing from Hunt earlier during the event, it was next announced that Stapleton won the award for best country album. 
Next, in a tribute to crooner Lionel Richie, John Legend joined Meghan Trainor, Demi Lovato and Luke Bryan to deliver a performance in commemoration of the singer winning the MusiCares Person of the Year award, a lifetime achievement accolade. American R&B singer, songwriter and actor Tyrese Gibson joined musical peers on stage to cap off the tribute before Richie himself enchanted audiences with a live rendition of "All Night Long."
Country outfit Little Big Town took the stage next to perform a sultry rendition of "Girl Crush," followed by a Pentatonix tribute to the recently deceased Maurice White of Earth Wind and Fire. 
The award for song of the year next went to "Thinking Out Loud" by British singer-songwriter Ed Sheeran. "Wow," said 24-year old Sheeran, kicking off his acceptance speech, which was peppered with disbelief. As Glenn Frey of The Eagles recently passed away, his band performed a loving tribute. 
Next, American singer-songwriter Tori Kelly, who was nominated for best new artist, performed a duet of "Hollow" with James Bay, an English singer-songwriter who was also up for the best new artist award during Monday's awards show. 
Finally, much anticipated and sufficiently hyped, the cast of Broadway mega-hit musical Hamilton took the stage next to perform a live rendition of their opening act. The number, which is titled "Alexander Hamilton" is a bold, hip hop-infused take on the life story of America's first Secretary of Treasury and one of the nation's founding fathers. 
American actor Don Cheadle then introduced a performance by Kendrick Lamar, who is nominated for 11 awards this year, including accolades for the LP that Cheadle described as a work that "daringly" incorporates funk into hip hop. The performance, which felt like a prison to bonfire saga, boasted dancers clad in body paint and grass skirts. Lamar's showing, which felt something like a historical odyssey, seemed to span a multitude of time periods, cultures and genres. 
As a last frame and perhaps the boldest takeaway of the evening thus far, Lamar was silhouetted by a bright white projection of the continent of Africa with the word "Compton" imposed in gothic font on the image. 
To add to the highflying energy, Hamilton next took home the award for best musical theatre album. True to form, the acceptance speech was delivered in the rap-style of Hamilton, a delivery that sent the Twitter sphere on fire with respect. 
The grammy for best rock performance went to southern garage rock outfit Alabama Shakes. The group, which is perhaps soul-inspired above all else, took the stage to accept the award, during which time singer Brittany Howard revealed that the band's origins date back to high school. During the gratitude-filled speech, Howard also endearingly confessed that her heart was beating "a mile a minute."
In perhaps one of the most anticipated performance of the evening, British superstar Adele next took the stage to perform a live rendition of "All I Ask." Though plagued by brief sound issues, the singer, who was decorated in a sparkly red gown, delivered an altogether powerful performance that strongly resonated with the audience.
Canadian pop singer Justin Bieber took the stage next for a performance of "Love Yourself," after which the singer threw down his guitar to perform a highly-charged rendition of his hit "Where Are Ü Now." Encased in a leopard print jacket, Bieber eventually shed his outer layer to conclude his rendition with an energized dance session. 
Next up was the award for best new artist, an accolade delivered by British singer-songwriter Sam Smith. The award went to Trainor, during which the tearful recipient thanked her parents among others for "always believing" in her. 
If the night's numerous moving performances hadn't already shook audiences, Lady Gaga elevated the evening with a ground-shaking tribute to the recently deceased, iconic musician David Bowie. Blaring "Rebel, Rebel," and boasting Bowie's signature red hair to boot, Gaga's performance gave every single witness chills. A living celebration of the avant garde movement, Gaga epitomized Bowie's capacity to be a chameleon of a performer. 
What's more, the transcendental showing was bolstered by a standing ovation.
After banking two awards, Stapleton performed a sultry tribute to B.B. King. Bonnie Raitt and Gary Clark Jr. joined the country singer for the performance. The infamous blues singer King passed away in May. 
After Beyoncé announced Mark Ronson and Bruno Mars won record of the year for "Uptown Funk," Taylor Swift won album of the year, and during her acceptance speech cautioned women around the world that there may at time be individuals who try to take credit for their success. In winning the award, Swift became the first female in history to win this accolade twice. 
"There are going to be people along the way who will try to undercut your success, take credit for your accomplishments, or you fame," Swift said, a comment many were quick to suggest was a direct dig at rapper Kanye West, whose controversial lyricism regarding Swift recently caused a stir.
Finally, Pitbull, Sofia Vergara and Robin Thicke closed out the evening with a confetti-fueled performance, back dropped by backup dancers and checker-clad, taxi-themed outfits.