Kendrick Lamar Just Made a Huge Statement About Black Incarceration at the 2016 Grammys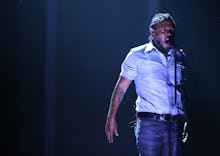 There was no way Kendrick Lamar was going to let his precious few minutes on the Grammys stage slip through his hands without making an impact. Yet, no one could have expected how huge it actually would be.
In front of an elaborate stage set-up, Kendrick Lamar stitched together a hard-hitting medley of songs from To Pimp a Butterfly, including "The Blacker The Berry" and "Alright," plus a new verse in his "Untitled" series. He started with hands in chains, a black eye painted on his face as he screamed "I'm the biggest hypocrite of 2016" with other men of color looking on from their cells. His incarceration was short, as he broke free into an epic neon tribal dance number, eventually ending in front of a stark white picture of Africa with the word "Compton" written across it.
The Grammys gave the world some warning Lamar's performance would be "provocative." 
"Kendrick came to us and said that we live in a time where these issues confront us every day and that it's important that they be given a public forum, and he would like to use his x number of minutes to create a great performance that is consistent with his this year," Grammy producer Ken Ehrlich told Billboard in an interview published Monday. "It is overtly political and it is overtly provocative, and I think if nothing else it's going to give people something to think about and talk about."
There is certainly a lot to talk about this issue. According to the National Association for the Advancement of Colored People, black people are incarcerated at nearly six times the rate of whites. African-American and Hispanic prisoners comprised 58% of all those incarcerated in 2008, though the two groups only make up a quarter of the United States' population.
Several of Lamar's new lyrics also hit on several of the moments facing the Black Lives Matter movement. "February 26, I lost my life too," Lamar rapped in his new installment in the "Untitled" trilogy. "2012 set us back 400 years." Feb. 26, 2012, was the day that George Zimmerman shot teenager Trayvon Martin in Florida.
Lamar's performance comes on the heels of two other recent high impact nods to the Black Lives Matter movement this February. During her Super Bowl halftime performance, Beyoncé staged her new single "Formation" while backed by dancers in black berets, a clear nod to the signature outfit worn by the revolutionary Black Panther Party.
Kanye West gave his models strict rules to follow at the The Life of Pablo and Yeezy Season 3 premiere on Thurdsay at Madison Square Garden in New York City, most of which involved limited movement. Yet, he let a group of them hold up the black power fist as his new album came to a close.
Lamar's performance made all those nods look tame — fitting as his album To Pimp a Butterfly is, by far, one of the most incisive and exhaustive looks at race relations in recent memory.
The artist's massive presence at this year's awards is one of the most notable instances in recent memory when critical acclaim was complete in sync with the Academy's nominations. Kendrick is up for 11 Grammy awards tonight, the most ever earned by a rapper, and just one short of Michael Jackson's record of 12. His performance showed audiences, Grammy voters and his fellow artists why he deserves every one.
So far, Lamar has won five, with several major categories to go. But the night is young, as is Kendrick Lamar. Perhaps he's only the beginning of showing what he's truly capable of as an MC and an artist.