Watch Demi Lovato Slay Every Damn Note in Lionel Richie's "Hello"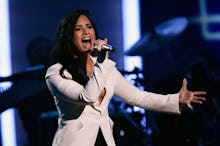 Let's not mince words: Demi Lovato came out after a slew of disappointing performances riddled by sound mixing problems and threw down the goddamn gauntlet. In a tribute performance to Grammy winner Lionel Richie, Lovato performed the legendary singer's "Hello" and slayed every note.
Actually, "slayed" feels insufficient. She marched out in a power suit, her head full of thoughts of the performers before her who struggled to hit their notes, and blew everyone else out of the water. She even brought Richie himself to tears.
There's little else to say. A singer who has consistently failed to achieve success worthy of her musical prowess came out, put on a vocal masterclass and won no less than director Ava DuVernay over.
She may never have won a Grammy — much less been nominated for one — but Lovato ruled Monday night. She did what the bigger stars couldn't, and she did it with class. For one brief, shining performance, as she found every single note and sang the daylights out of it, Demi Lovato won.