Stevie Wonder Made an Unforgettable Point About Access for the Blind on the Grammys Stage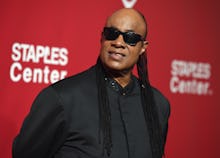 Joined by a capella group Pentatonix on the Grammys stage, legendary musician Stevie Wonder not only paid tribute to recently deceased musician Maurice White of Earth, Wind and Fire, he was also able to present the award for Song of the Year. 
And that's where the fun began. 
As he opened the envelope to announce the winner, and as people at home wondered who would read the winner, Wonder turned the envelope around to the audience and joked that those in the audience couldn't read it — the winner was written in braille, a tactile language comprised of raised bumps that allow people without sight to read. 
"Y'all can't read this, huh?" he said. "You can't read it, you can't read braille! Nyah-nyah-nyah-nyah!" Wonder said, laughing. 
When he did eventually read the winner, he announced it only after making a point about what the Grammys had done for him: made it accessible for a person living with a disability. Wonder was not born blind, but due to a problem in the incubator as a baby, he has been blind since his birth. 
"We need to make every single thing accessible to every single person with a disability," Wonder said. As the crowds cheers subsided, Wonder announced that Ed Sheeran won the award for Song of the Year for his song "Thinking Out Loud." 
According to the World Health Organization, 285 million people worldwide are visually impaired and 39 million are blind. Of those 285 million, 90% are considered low-income, underscoring how often living with a disability lowers a person's economic prospects.