Rihanna Abruptly Cancels 2016 Grammys Performance Due to Illness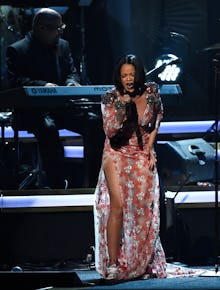 Chris Pizzello/AP
Rihanna ditched her Grammys performance Monday night after the "Work" singer was a no-show on the red carpet. TMZ reported an illness was the reason for the last-minute canceling. The tabloid alleged RiRi had been rehearsing "Kiss It Better," one of the latest tracks off her rebellious eighth album Anti, but decided to take the advice of multiple doctors and walk away from her performance hours before she was scheduled to take the stage.
Rihanna "was at risk of hemorrhaging her vocal cords," one of her representatives told Billboard. According to TMZ, RiRi left rehearsals without even attending the Grammys red carpet event, as doctors were warning the Barbadian recording artist the performance could "permanently damage her vocal chords." 
It would have been a big night for Rihanna, who would have been marking her return to music with the first live performance of a song from her new album.
Read more:
This is Rihanna's second time canceling an appearance at the Grammy Awards. The first time was before the 2009 Grammys, when then-boyfriend Chris Brown assaulted her in his car.