Kendrick Lamar Took the Stage at the 2016 Grammys and Twitter Agrees: It Was Lit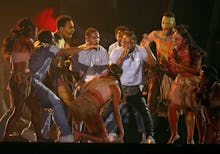 Matt Sayles/AP
Kendrick Lamar took the stage at the Grammys Monday night and lit it on fire — literally and figuratively. From the first moments of his "Blacker the Berry" performance, Lamar exploded an otherwise sleepy ceremony. He and his chain gang filed down a makeshift prison corridor, breaking their bonds and into dance before moving to "Alright." A towering bonfire erupted behind Lamar as his dancers built momentum. 
Read more:
"I'm African-American, I'm African," Lamar rapped, closing out his performance with a map of Africa as a backdrop, "Compton" written across it. It was a powerful message about racial equality and social justice. And Twitter responded with a thunderous round of applause.
Some users praised Lamar's taking his powerful political message to a highly publicized event, a la Beyoncé with her Super Bowl performance of "Formation," a song heralded as a woke AF celebration of blackness as soon as it dropped on Feb. 6. 
And like "Formation," Lamar's Grammy performance looks primed to usher in an SNL-style freakout from white America. Twitter predicts the imminent outpouring of condemnation from users who don't see music as an appropriate arena for the expression of social and political opinion (when said social and political opinion speaks to the urgent need for racial equality). 
But overwhelmingly, the internet's reaction was both excited and grateful — that Lamar had done in a handful of seconds what no other musician had managed in two hours of music. It had been a pretty uneventful ceremony before Lamar lit it up.
This woman, a Twitter anomaly, somehow managed to keep her socks from getting blown off by Lamar's mic drop of a performance. But it did knock her off her feet.
The final verdict? Kendrick Lamar: on fire and winner of music's biggest night.