Adele Slayed Her 2016 Grammys Performance Despite Audio Problems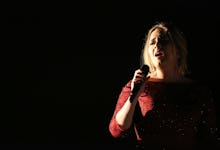 Despite some technical difficulties, singer Adele managed to still captivate audiences with her performance at the 58th Grammy Awards at the Staples Center in Los Angeles. The pop superstar performed her new single "All I Ask," which was co-written by singer Bruno Mars.
"There's probably a bit too much reverb on the mic but it's a great example of why people bought 8 million of her records and why some people call her Adull," The Guardian wrote in a live blog. "If you like powerful ballads about heartbreak, this is as big as it gets in 2016."
Read more:
25, the British singer's newest album, was not eligible for a Grammy due to it's late release in November. According to the official website for the 58th Grammy awards, "albums must be released between Oct. 1, 2014 and Sept. 30, 2015" in order to be considered.
After the audio cut out for a few moments during Adele's performance, fans of the singer took to Twitter to voice their annoyance with the technical difficulties. 
However, Adele already has 10 Grammy awards. The audio problems may not have bothered her too much.